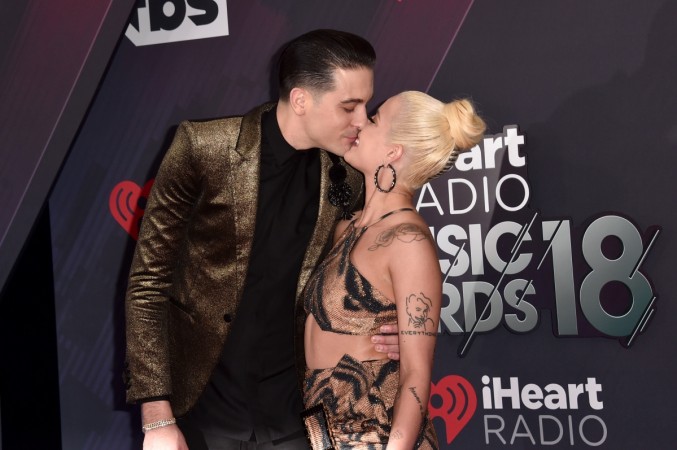 G-Eazy is reportedly missing his former girlfriend Halsey after seeing photos of her performance at the Victoria's Secret Fashion Show. The couple had split for the second time in October.
According to Hollywood Life, the rapper, whose real name is Gerald Gillum, is having a hard time moving on from her.
A source said: "G-Eazy is definitely missing Halsey and seeing the sexy photos of her at the Victoria's Secret Fashion Show was just another reminder of what he's missing out on."
"She was totally turning him on. He thought Halsey looked incredibly hot and was insanely jealous over thinking about all the guys he knew were drooling over Halsey," the insider added.
"Halsey's sexy Halloween costume also brought back more feelings of jealousy for G-Eazy because he knows she can get any guy she wants. He is trying to move forward with his life after the break-up, but constantly seeing how amazing Halsey is doing, and how incredible she looks, only makes it that much harder for him," the source went on.
In July, Halsey had announced that she and G-Eazy are taking a break. The 23-year-old singer posted on her Instagram Story, "I normally keep this kind of thing private but provided our public nature I feel I need to inform my fans. G-Eazy and I are taking some time apart."
"I'm eager to continue the upcoming passage of time dedicating myself to my art and career, and the duration of my tour. I wish him the best. Thanks for respecting our privacy at this time," she added.
However, the two got back together, only to break up again.
Meanwhile, during an interview with Entertainment Tonight in late October, G-Eazy gushed about her. He said: "I think the world of her. She's a really special person, a really special human being. Besides how great of an artist she is, but as a human, I love her."