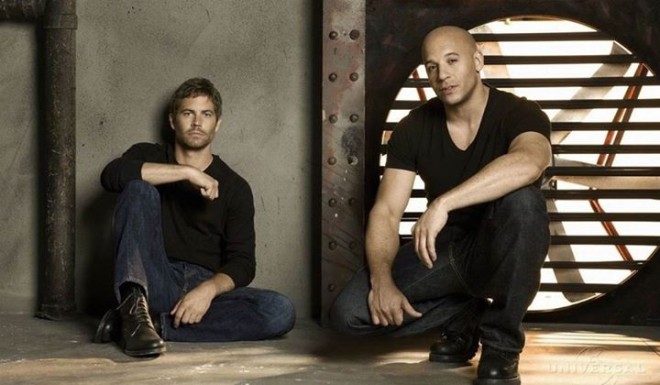 "Furious 7," the seventh instalment in the "Fast and Furious" series is gearing up for its release and actor Vin Diesel has been keeping the hype alive by sharing footage and photographs from the action flick on his social networking platforms.
A few days back Diesel shared the latest trailer of "Furious 7" featuring the gang, including Paul Walker, Tyrese Gibson, Ludacris and Michelle Rodriguez, driving off a plane. "Four weeks away..." he captioned the post.
And on Tuesday, he changed his Facebook cover picture to that of a snap featuring Walker and himself gazing into the camera. Within hours, the picture was liked by numerous "Fast and Furious" fans who expressed sadness that Walker wasn't alive.
"I wish paul haden't passed on. May his soul rest in peace," read a comment, while another fan echoed similar sentiments, writing, "The one N only Beloved Paul W. Ur missed by the world.!"
As fans of the franchise know, Walker died in a tragic car crash in November, 2013. At the time "Furious 7" was still in production, and his brothers stepped in to help complete scenes written for Walker.
The first trailer of "Furious 7," which will release in the US on 3 April, debuted during Super Bowl XLIX, and gave fans a hint into what's in store for Dom and gang.
After the events that lead to the death of Owen Shaw, Dom, Brian and the rest of the crew returned to the United States to live normal lives. But Deckard Shaw, Owen's brother, has other plans, and his priority seems to be to seek revenge for his brother's death.
"Looks like the sins of London have followed us home," Dom is heard saying in the first trailer. "Remember Owen Shaw? This is his big, bad brother."
Check out the trailer for "Furious 7" below: