Fans of Dwayne Johnson aka Rock can now happily cheer for him as the former WWE star will be seen performing his signature move on a baddie in "Furious 7".
A teaser posted by Universal Pictures shows Dwayne Johnson using his famous WWE finishing move to attack the villain in "Furious 7". It is a seven-second clip posted on the studio's instagram page with the caption: "Hobbs brings the pain in the latest #7Secondsof7. #Furious7."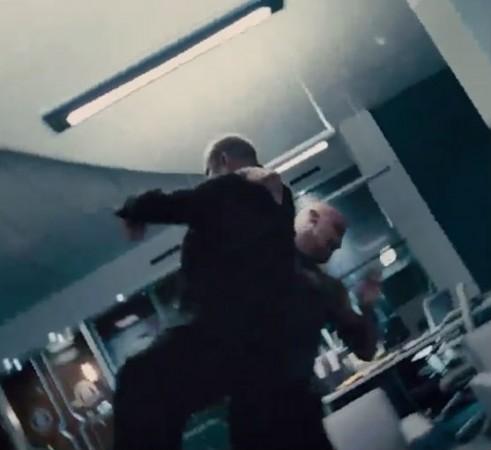 Dwayne Johnson will be seen performing his signature move – Rock Bottom -on Jason Statham, who plays the role of an antagonist in "Furious 7" named Ian Shaw. It is a short clip which has electrifying action moments between the two stars.
We should note that Statham was seen in uncredited cameo in Fast & Furious 6 but in "Furious 7", he has done a full-fledged role.
The short clip has gone viral among Rock's fans; it has got more than 24,000 likes and 960 comments so far. The fans have thoroughly enjoyed the sequence and have commented on the same. Below, we bring you a few selected posts:
Andylpfan Tweeted
Jason Statham just experienced the pain..
Toh_eng_heng Wrote
@aaronma17@5971ypr @kiwi3028 Rock Bottom on Statham??Wow.......
Kristifu Posted
@djblvd That's a slobberknocker of a hit! #WWE #TheGreatOne
Jizztizz Wrote
I hope you dont lose like you did to vin diesel... that was one of the most heartbreaking moments of this boys life!!!
Ronnie_alexander12 Wrote
Should of pined him 4 a (1,2,3) count lol
Chirag_shrma Tweeted
Dude, doesn't look like one... Rock bottom looks much better than that .... With the straight camera
"Furious 7" is the most-awaited film of 2015. Audience will get to see Paul Walker, who passed away in 2013 in a car crash, one last time. This film will remain special to his fans. Other cast members include Vin Diesel, Michelle Rodriguez, Jordana Brewster, Tyrese Gibson, Ludacris, Lucas Black, Elsa Pataky, Kurt Russell and others.
The movie is written by Chris Morgan and directed by James Wan.