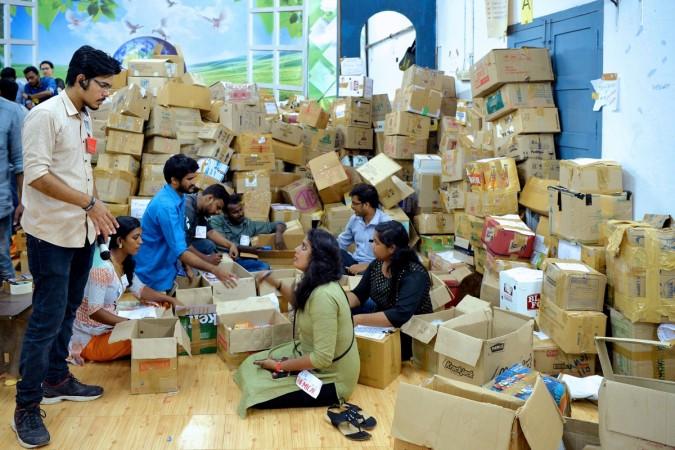 A beautiful poetry had featured on the invitation cards of a fundraising dinner that was organised inside a tea room in Srinagar overseeing the Jhelum river. It read: Naav daar Aab tey aab daar naav,akh akes athrout kar therav ( the boat in the water or the water in the boat, hand in hand we will overcome.)
The dinner, which was attended by artists, bureaucrats, entrepreneurs, educationists, radio jockeys and journalists was aimed at helping raise funds for the flood victims in Kerala. The key highlight of the event was that Kerala cuisines that were served on traditional Kashmiri copper plates were relished by one and all.
A journalist named Raheel Khursheed took over the reigns of Chai Jaai kitchen and had cooked the dinner for the guests. The evening though focused on raising awareness for helping Kerala flood victims also was reminiscent of the devastating 2014 floods that Kashmir went through.
"We know what the people in Kerala must be going through. We have been there. It is not easy to overcome the enormity of the damage caused by floods, but we stand in solidarity with the people in Kerala. We will do our bit," a guest said.
The relief donations for Kerala have come from every corner of Kashmir. The Jammu and Kashmir Bank employees contributed Rs 11 crore to the donation following which the chairman had also announced more funding.
The Kashmir University students set up booths in the campus asking for relief funds and other emergency materials. Some NGOs have also been raising awareness through mobile vans and collecting relief material for people in Kerala. Truckloads of the relief materials have already been dispatched to the flood-ravaged state of Kerala.
On Eid, many localities in the valley reverberated with announcements from the mosque loudspeakers urging people to donate generously towards Kerala relief as a gesture for which the occasion of Eid-al- Adha is known.
"I lost my house and my shop during the 2014 floods. When I saw the images of helpless people in Kerala cruising through the flood waters leaving behind their belongings, my eyes were filled with tears. I went through the same few years ago. A natural disaster like a flood or an earthquake can strike anyone but as human beings, we have to reach out to each other in these testing times," Muhammad Hilal, a Srinagar based businessman, said.
In 2014, the entire Kashmir valley was ravaged by the floods after a spell of torrential rainfall took many lives and resulted in huge loss of property worth thousands of crore.