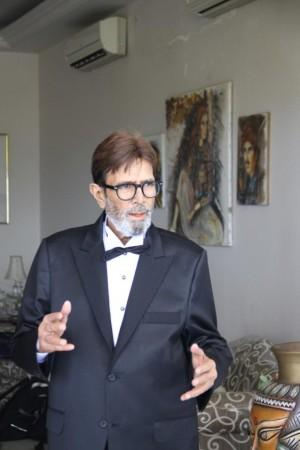 Legendary actor Rajesh Khanna, who died on 18 July, gave goodbye message to his fans around the world before breathing his last. He said "Time up, Pack Up" amid his loved ones at his residence Aashirwad.
The ailing actor somewhere knew that the time had come for him to bid farewell. He recorded a goodbye message for his near and dear ones, fans and friends, and the clipping was played at his prayer meet on Sunday.
Here is a full transcript of Kaka's last words (Translated the message in Hindi to English):
"Dear friends, brothers and sisters. I am not a very nostalgic person. We always look forward to the future, since the time that is gone is gone, why to think about it? However, when familiar faces meet after a long time, some memories are again refreshed.
My journey started with theatre, and I owe my success to the same. I had no godfather when I entered the film industry, neither any relative nor anyone to support. I entered through the United Producers Filmfare Talent contest.
I was called at the Times of India office in the presence of well-known filmmakers like Chopra sahib, Bimal Roy, Shakti Samnta and many more.
They asked me 'Do you remember the dialogues we had sent you?'
They were seated right in front of me and I felt I was undergoing a courtmartial. As if they would take a gun and shoot me right away.
I answered 'I remember the dialogues but you haven't told me about the characterization of the person who is to narrate this dialogue.'
'Is it the hero telling his mother that he wants to marry a dancer and make her the daughter-in-law of this house?'
I asked them 'Is this hero rich, poor, a middle class man, a villain or a well-read illiterate?'
To which Chopra sahib quickly said, 'Are you from theater', I answered 'Yes, but you have sent me only the dialogues but didn't tell about the characterization.'
Then he asked me to chose my own dialogue and say.
I became very anxious and nervous thinking which dialogue will impress these big directors. I had seen their pictures more than 10 times. Then finally I gathered some courage and delivered a dialogue from one of my plays. This was the dialogue that gave me my first break in film, by GP Sippy, nearly 40 years ago. The dialogue was: 'Yes, I am an artist, I am an artist, why would you do listening to my story.'
Somehow I entered films but the ladder to my success goes to my fans.... I owe all this to my well-wishers and fans. It's you (fans and friends), who made me a star and eventually a superstar.
I don't have enough words to thank you all. You all kept on loving me selflessly throughout. I can never return back that love to you, but whatever I say to thank you will be straight from my heart, will be the truth from inside, it will be my honesty and my conscience.
Today, my heart is light after talking to you and thanking you. I am feeling good and content from inside after meeting you this time.
Can't find anyone, whom I can call as my own; can easily find stones here but can't find a heart.
Friends, I am a part of you, and as I said earlier, you all took out your precious time for me. This is your love that you were drawn in such huge numbers. I am grateful and thankful to you. Salaam to you all."
Check out the video here: