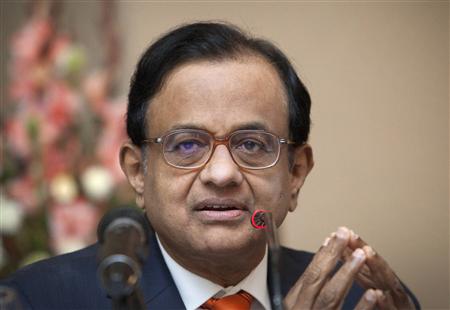 Prime Minister Manmohan Singh convened a meeting of all chief ministers on Saturday to discuss setting up of the National Counter Terrorism Centre (NCTC).
During the meeting, the chief ministers expressed their concerns relating to the proposed anti-terror body.
Though the Central government failed to reach a consensus with the opposing chief ministers on setting up of the anti-terror agency, Home Minister P Chidambaram assured them that the Center would consider their recommendations and concerns before making a final decision on the contentious NCTC.
Here follows the full text of the Home Minister's speech.
"I think we have had a useful and productive discussion today on a proposal which I think is extremely important in order to face the threat of terrorism to our country. I came to this meeting with an open mind and I continue to keep an open mind and I assure you that all your suggestions will be carefully considered before a decision is taken by the Government. Ultimately, however, Government would have to take a decision. Taking no decision on a matter of such urgency does not advance the objectives for which we have met today. It is not my intention to sum up the discussion today. However, I would be failing in my duty if I do not highlight the areas of convergence and areas which require more examination.
I think it is broadly agreed that there are two separate issues, one the need for NCTC or a similar organization. The other is what should be the powers and functions of such an organization, should one be created. I think this distinction was brought out in every intervention and I am grateful that all Chief Ministers maintained the distinction as far as support or opposition to the proposal is concerned and I think it will be fair to say that a number of speakers expressed strong support, a number gave qualified support and a few out rightly rejected the proposal. We will give serious attention to both those who strongly supported the proposal and those who suggested that it should be rejected outright.
The third aspect is about the role of agency designed to do counter terrorism, in a sense this is new to our system. We have intelligence agencies, we have investigative agencies. Between intelligence agencies and investigative agencies under the traditional system of administration of law and order, we have the police but my experience in this job for the last three and a half years tells me that what we need is not simply a police organisation; what we need is a counter terrorism organisation. I think one of the Hon'ble Chief ministers brought out borrowing the language of the NCTC in the US, what we need is a counter terrorism organisation that mobilises all elements of national power - diplomatic, financial, investigative, judicial, police. So we need to move beyond looking upon counter terrorism as a police operation and enlarge our scope to make it a truly counter terrorism organisation that will mobilise all elements of national power. That is why we believe that an NCTC or a similar organisation or organisation by any other name is absolutely necessary. While we will continue to have intelligence agencies, and the premier agency is the IB, and we will continue to have investigation agencies, the agencies are the State CIDs and Crime Branches and at the Centre, the CBI and now the NIA, we need and I underline this, we need a counter terrorism agency which is in my view more than a mere police agency.
In the last two and a half years, there have been significant successes in our CT operations, (Counter Terrorism operations). I listed them on 16th of April, I listed them today but against the significant successes in the CT operations there have also been the cases of failure. Why did we fail? We failed mainly because of lack of capacity; sometimes we failed because of a lack of timely decision. Each case has been documented; each case has been examined carefully. We document each case of success, we also documented each case of failure. Each case of failure contains within it the potential of another terrorist attack. Therefore, we cannot afford to fail. The adversary can fail ninety nine out of hundred times but the State, the Governments, cannot afford to fail even once out of hundred times. Every case of failure-there will be some terrorist attack somewhere. That is why it is important that we get over these weaknesses, the weaknesses arising out of lack of capacity, the weaknesses arising out of lack of timely decision. We think the NCTC or any other organization or any similar organization with whatever powers will fill this gap.
The fourth point is the misgivings about operations of the NCTC. It is not the NCTC which is being given certain powers, it is the operations wing of the NCTC which is being given powers and I have taken pains to say, both in the draft order that was made available and in the draft SOPs, that it is under exceptional circumstances. Normal operations will be done by the ATS and the State police. It is only in exceptional circumstances. As I said in the morning, suppose in a given situation only an officer of a Central Agency has the opportunity to interdict the terrorist, what should we do? Suppose that action has to be taken within hours or within minutes, what should we do? Suppose there is no real time between gathering intelligence or interdicting a terrorist what should we do? It is in exceptional circumstances that we have said that the operational wing may act, as far as possible by giving advance intimation and certainly by immediately providing information. But I recognise that a number of speakers are not still satisfied and they want more safeguards on this and those who gave qualified support are not satisfied with the safeguards that are built in. So this requires greater reflection.
And finally the other point of misgiving: why is it located in IB. I may recall, when I stood at this very podium in December 2009, I did not propose that the NCTC should be located in the IB. In fact, the new security architecture was certainly more ambitious but did not propose that it should be located in the IB. Finally, the decision was taken to locate to it in the IB because the GoM which made its recommendations in 2001, named the IB as India's nodal counter terrorism agency. A number of speakers who pointed out that we must have a NCTC, asked why should it be located in the IB? Certainly this matter deserves re-examination and we will certainly re-examine it.
Once again I am deeply grateful to all of you for the useful, productive and illuminating debate on the subject. If we can debate all subjects that come before the Central Government in this manner in a very balanced manner, I think decision-making will be easier. Hard decisions have to be taken. Our decision cannot be based upon our past experience alone, because the past does not contain any indicators. We do not have experience of many matters. Some risks have to be taken, some calibrated steps have to be taken. But given the nature of threats we face, we must take hard decisions. As one of the Chief Ministers pointed out this morning, as we came to this meeting there was a terrorist attack in Russia, 20 people were killed; in a terrorist attack in Pakistan, 24 people were killed; there was a counter terrorist operation which commenced in the early hours in Jammu and Kashmir, the security forces succeeded in neutralising two terrorists. That is the way most days begin for me, but at the end of the day, if there has been no terrorist attack in India or terrorist threat to India, we end the day peacefully. But that is what I face every day. That is precisely why I plead with you to work with us. Working together, Central Government, State Governments working together, we can certainly make India a safer and more secure country for our people. All your suggestions will be carefully examined and when a decision is taken or a process of decision making is initiated, we shall certainly share it with you.
Thank you."