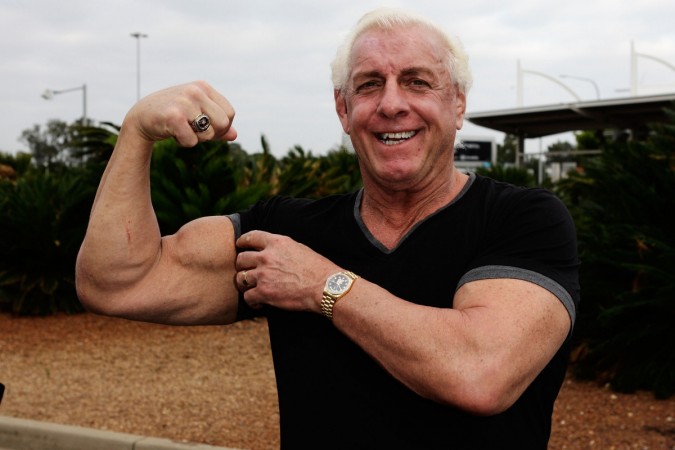 Ric Flair, the WWE legend, made heads turn by making some appalling comments in his ESPN 30 for 30 documentary. The 68-year-old veteran pro wrestler, now engaged to Wendy Barlow, claimed that he slept with 10,000 women during his prime as well as masturbated twice on a daily basis.
Steve Tyler, the lead singer of legendary American rock band Aerosmith, has slammed the Nature Boy's comments, saying it's absolute garbage.
"This guy is full of s***," mentioned Tyler to TMZ Sports, when asked about Flair's 'space mountain' reference.
For those unaware, during his heydays, Flair referred to his penis as 'space mountain'. "Girls, you can ride my 'space mountain' all night long, if you're 18 years old and over..." a vintage WWE video still surfaces on the internet.
He recently made his WWE appearance on SmackDown Live this Tuesday November 14 after his real-life daughter Charlotte (real name, Ashley Elizabeth) won the WWE Women's Championship after beating Natalya in Charlotte, North Carolina.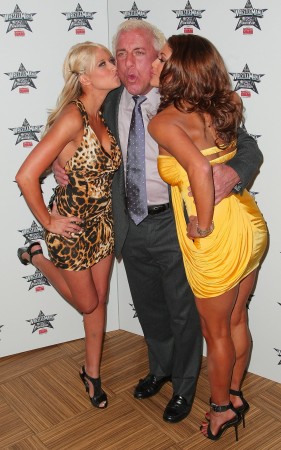 Flair, who has plenty of children and grandchildren, regretted making those sensational comments on the ESPN documentary.
"What I said was the truth, but I feel bad now that I said some of it. Ten thousand women," Flair said in an interaction with the People magazine. "I wish I hadn't said that because of my grandkids."
"I only love one now," he clarified. "I have never done anything since I met Wendy."
Ric Flair personal life
Real name: Richard Morgan Fleihr
He married four times in his life so far and all of them headed to a divorce!
1st wife: Leslie Goodman (1971-1983)
2nd wife: Elizabeth Harrell (1983-2006)
3rd wife: Tiffany VanDemark (2006-2009)
4th wife: Jackie Beems (2009-2014)
5th engagement: with Wendy Barlow (2016)
Children: Megan, David, Asley (Charlotte), Reid [deceased]