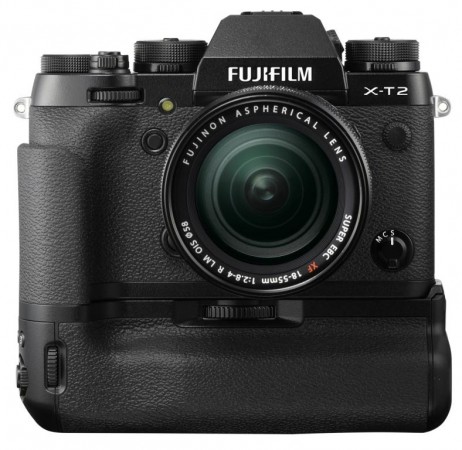 Fujifilm is probably the most recent entrant in the mirrorless game and the imaging giant has quite a few cameras for its customers. Among the best ones is the X-T1. Now, the successor to this APS-C sensor camera has been announced, the X-T2, and Fujifilm has packed it with a lot of goodies.
For starters, the X-T2 features a 24 MP sensor and a 4K video in the camera as well, giving the Sony a6300 a reason to sweat under its collar. The X-T2 also features a re-imagined 325-point autofocus system that dramatically improves over the X-T1's performance. Fujifilm claims that the AF is powerful and sensitive enough to lock focus on fur and feathers, in order to bring out the hidden details.
Fujifilm has also built the X-T2 with speed as a priority. They've managed to speed up the start-up time, the rate at which the electronic view-finder refreshes, the AF-locking speed and more. It seems like Fujifilm is really keen on giving the Sony a6300 a run for its money. Much like the Sony mirrorless camera, Fujifilm have given the X-T2 a magnesium-alloy body, and unlike the Sony, the X-T2 also has weather sealing.
One place where the Sony a6300 does score higher than the X-T2 is in burst mode. The Fujifilm X-T2 only shoots at 8 fps, while the Sony a6300 can go up to 11. That said, the optional Vertical Power Booster Grip that Fujifim launched with the X-T2 can help the camera hit that mark.
The vertical grip also helps triple the X-T2's power capacity. Not only does it power the mirrorless camera alongside the one that's inside, the grip packs two additional batteries as well. The grip is also reported to allow the Fujifilm X-T2 to shoot 4K video for up to 30 minutes. Without the grip, the camera is good for only 10 minutes of 4K video.
Fujifilm has also improved the ISO sensitivity with extra stops added to the top end. The ISO sensitivity ranges between ISO 200 and ISO 6400, with that bracket expanding to range between ISOs 100 and 51,200.
The Fujifilm X-T2 bears a $1,599.95 price tag for just the body and the camera, with the 18-55 kit lens costing $1,899.95. Fujifilm will be releasing the camera in the US in September and should be releasing the X-T2 in India a little while later, if not in September itself.