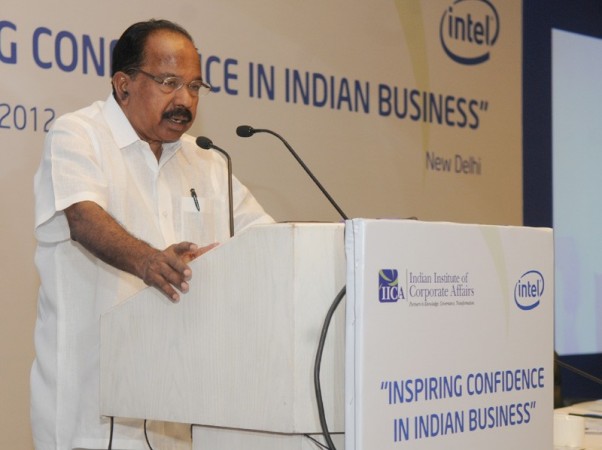 The Prime Minister's Office on Monday rejected oil minister Veerappa Moily' proposal to shut down petrol pumps across the country after 8 pm.
In order to trim down on oil imports and control domestic demand, the oil ministry was supposed to begin an austerity campaign from mid-September.
Moily had written to Prime Minister Manmohan Singh about the fuel conservation drive to cut down consumption by 3 percent and import cheaper oil from Iran, which faces UN saction, to save ₹5,600 crore or $8.5 billion. Among the many austerity measures, shutting down petrol pumps for a 12-hour curfew was one of them for which the minister has received several criticism from Opposition to Industrialists.
Reeling under pressure Moily announced that the proposal was made by the public and not the government.
"It's just an idea--coming from the public. It's just a proposal in the pipeline. We have not taken any decision on it. The BJP may come up with a better proposal if it has one," Moily told ANI.
Here are the latest reactions:
Nirmala Sitharaman, BJP Spokesperson: "During NDA, LPG was available on demand. Now petrol pumps ordered to shut at 8pm! Economy mismanaged. Blame BJP for Congress inefficiency," she posted on Twitter.
Gurudas Dasgupta, Communist Party of India MP: "It is like a curfew, we are heading towards economic emergency, Government must get petrol from Iran," he said in support of Moily's take on oil imports.
Prakash Javedkar, BJP MP and spokesperson: "Govt has lost sense of proportion. It will close petrol pumps in night. It will not save petrol but will add to the harassment of consumers. Does Moily think that people fill up the tanks only because petrol pumps are opened in the night?" he posted on Twitter.
P Chidambaram, Finance Minister: "It is not the government's suggestion. It has come from the public. Should the government close itself to public's suggestions?" he told ANI.
Kiren Bedi, Former IPS officer and social activist: "If we r to economize on fuel make it mandatory for all Govt officials to take public transport to come to office! See the overall changes! Recall when country suffered food shortage Shastriji gave a call to conserve. We did! We can do same on fuel! Political leaders must lead. Mr Molly needs to know that buying fuel is a necessity, by day or night. Now he wants us to pay for it doubly, money+productive time," she slammed the suggested proposal on Twitter.
Jagdambika Pal, Congress leader: "Shastriji had said eat 1meal a day for austerity measure. And now we are food secure, sometimes austerity is necessary," he reacted to Krian Bedi's comment.
Chetan Bhagat, writer: "Petrol pumps closed after 8pm? To reduce demand? Dude, people are buying fuel, not whisky!" he posted on Twitter
Harsha Bhogle, Indian cricket commentator and journalist: "Veerappa moily asks for austerity, belt tightening with petrol. fair call. but if we cut corruption, everything easier?" he reacted to the news on Twitter
Kiran Majumdar Shaw, Chairman and MD, Biocon: "Will Veerappa Moily's call for shutting #petrol stations at 8PM really reduce #consumption? NO.What about job losses because of this?" she posted on Twitter.