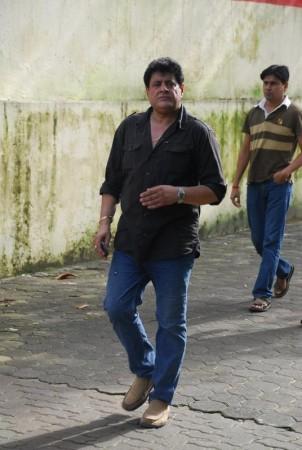 The row over the appointment of actor Gajendra Chauhan as the new chairman of India's premier Film and Television Institute (FTII) in Pune refuses to die down.
The actor refuses to step down even as the students and alumni of FTII, with the backing of several eminent film personalities, have continued their protests against Chauhan's appointment for a month now and are adamant on continuing it until their demands are met.
"I am unfazed by criticism, won't give up FTII chairmanship," Chauhan told NDTV.
His rigid stand over the issue is likely to prompt the students to intensify their protest demanding removal of Chauhan, who was reportedly appointed after "consultation with" Rashtriya Swayamsevak Sangh (RSS).
According to NDTV sources, Minister of State for Information and Broadcasting (I&B) Rajyavardhan Singh Rathore ignored the list of names of other prominent film personalities for the post of FTII chief twice and picked Chauhan from the one prepared "in consultation with people outside the ministry, including the RSS".
The I&B ministry had received the first proposal in June last year, with names of eminent filmmakers Adoor Gopalakrishnan, Shyam Benegal and actor Anupam Kher. However, that list was reportedly not considered.
Another list surfaced in December, proposing Rajinikanth, Amitabh Bachchan and filmmaker Pradeep Sarkar as the probable choices for the post, but even this was not considered, NDTV sources said.
At last, Rathore forwarded a final list comprising Chauhan's name to I&B Minister Arun Jaitley.
Jaitley is reportedly unhappy with Chauhan's appointment as the FTII chairman. Oscar-winning sound engineer Resul Pookutty posted on Twitter that Jaitley had told in a 3 July meeting with FTII Students' Association that although he is not happy with the choice, the government cannot retract his name now.
Not just @AnupamPkher Mr.@arunjaitley also told us in the meeting that we haven't made the best of choice but as a Govt.we can't retract!

— resul pookutty (@resulp) July 10, 2015
Kher had said earlier this week that the film institution needs a more qualified person than Chauhan and requested him to resign. Even Rishi Kapoor on Friday tweeted asking Chauhan to resign with self respect if students are not willing to accept him.
However, the advice from the fellow industry men seems to have not gone down well with Chauhan as he hit out at them, saying: "Won't give up FTII Chairmanship, who are Anupam Kher and Rishi Kapoor to say so?"