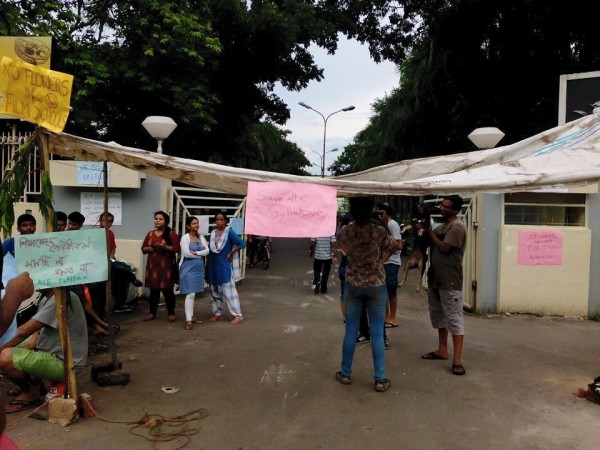 Gajendra Chauhan, whose appointment as chairman of the Film & Television Institute of India (FTII) has triggered a row, has refused to quit unless he is 'ordered' to do so by the Modi government.
Shrugging off protests by FTII students and film personalities who are demanding his resignation, Chauhan, who is also a member of the ruling Bhartiya Janata Party (BJP), has termed the protests a 'conspiracy'.
"There is conspiracy, students should not get influenced by politics: Gajendra Chauhan on FTII protest against him," ANI tweeted.
The FTII students have taken forward their protest against Chauhan's appointment to the fifth day with support from students from Satyajit Ray Film & Television Institute (SRFTI), Presidency University and Jadavpur University.
The protesters are also being supported by the Chhatra Yuva Sangharsh Samiti (CYSS), the students' wing of the Aam Aadmi Party (AAP).
Why the Protest?
The FTII students have highlighted his lack of "academic, administrative and artistic credentials in the field of art and film education" to voice their protests and said his only eligibility is that he has "acted in a TV serial of Mahabharat and also some soft porn D grade Hindi Films."
"He has no significant contribution/work to even qualify as a footnote or a passing reference in the history of Indian cinema and television," Harishankar Nachimuthu said in a statement issued on behalf of all students of the Pune-based institute.
The official statement from the FTII Students Association. pic.twitter.com/ojJGC0LuKe

— Raja Sen (@RajaSen) June 14, 2015
Chauhan's appointment has been termed by documentary filmmaker Anand Patwardhan as yet another move to 'saffronise' institutions.
"This is a clear cut saffronisation process in its extreme form. The same process that has been taking in the country, at a rapid pace since the new NDA government has come to power," Patwardhan said.
"I hope this action of the students make the whole country look into the process of appointments, the fact that there is no transparency involved, the fact that the party in power can decide anything they want about these appointments without consulting the people involved – FTII students, alumni," he added.