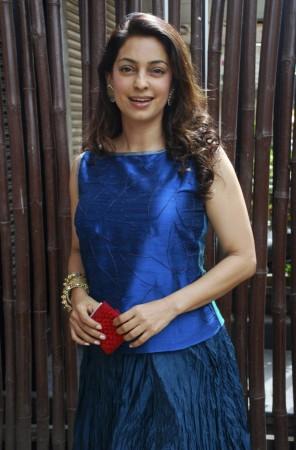 Apparently Shah Rukh Khan and Juhi Chawla's friendship has been going through a rough phase.
Juhi feels her bond with Shah Rukh is not the same as before. The busy schedule of the actors is coming between their friendships, Juhi feels.
"Whose friendship is the same as ever before anyways! And we are very, very busy people and Shah Rukh Khan is all the more busy than anyone, so where we have time for friendships? But of course we are friends, no doubt," Juhi told Press Trust of India in an interview.
"Not just him, anybody from the industry; where do I meet anyone as such? It just doesn't happen. We are all running around doing our work," she added.
Juhi and SRK have been friends since their first film "Raju Ban Gaya Gentleman" and from then onwards they became best friends. SRK and Juhi have given hit films like "Darr", "Yes Boss" and others.
Earlier this year it was reported that Juhi was miffed about Shah Rukh not informing her about replacing her brother Bobby Chawla with Venky Mysore, as the CEO of Red Chillies Entertainments Pvt Ltd.
"I don't know if I was informed before or after Venky assumed office, but it was Venky who called me and told me about the development," she told The Times of India.
"Yes I felt bad. But not because SRK didn't inform me. In fact, I told Venky 'please go ahead and take up your new assignment'. But suddenly I started feeling bad because it struck me that the job, which my brother did so efficiently for the longest time, will now be done by someone else."