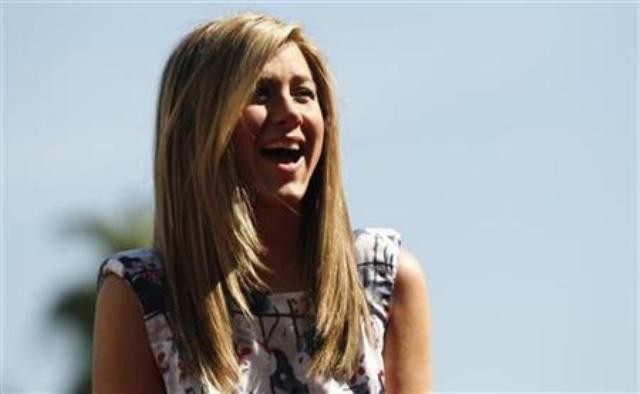 Jennifer Aniston recently spoke about the possibility of a "Friends" reunion. The 45-year-old actress who played the role of Rachel Green in the popular sitcom hinted that there is a bleak possibility of the show returning back.
"At this point I honestly think we should just wait until we are really much older and have Golden Friends. Then you wouldn't have the comparison," she said during her interview at The Graham Norton show, reports Daily Mail.
"Friends" was one of the longest-running comedy shows on the television. It ran for ten years from 1994 to 2004. However, since the show's finale, fans are anticipating its comeback. Apart from Aniston, the other cast members of the show included Courtney Cox, Matt LeBlanc, Lisa Kudrow, Matthew Perry and David Schwimmer.
Aniston also spoke about her character's hairstyle. She said after the haircut became famous, her hairdresser got loaded with innumerable clients.
"I only had that style for a season and then it was gone," she said, adding, "He had a great time with the blow-dryer but didn't think that I would have to do it myself. He then leaves me with a round brush and hairdryer. I didn't know what I was doing. It was hair hell,"reported Independent.
Meanwhile, Aniston also spoke about her upcoming movie "Horrible Bosses 2." She plays a dentist who has a heavy sexual appetite. The movie is nearing its release and the actress has been promoting the film with the cast.
"Horrible Bosses 2" tells a story of three friends, Nick, Dale, and Kurt, who plan to start their own business, but when investor Burt Hanson devises a plans to ruin it, they decide to take him down. Sean Anders has directed the film.
It is a sequel to hit comedy "Horrible Bosses." There are speculations that the third instalment of the franchise is already in the pipeline. Furthermore, Justin Theorux's fiancé is also being lauded for her intense role in "Cake." She has played Claire Simmons, a LA-based woman who has met with an accident. She will be seen without make up on screen for the first time.