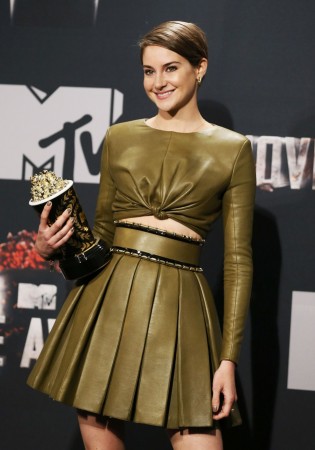 The similarities in their respective careers have "Divergent" actress Shailene Woodley being pitched as the next Jennifer Lawrence, but the "The Hunger Games" actress appears to be unhappy with the association.
Lawrence reportedly feels that Woodley is copying her, both in the professional as well as personal spheres, and this has made the actress insecure. An In Touch report even has it that Lawrence feels Woodley is stealing her limelight and that the 22-year-old actress is auditioning for all the roles that Lawrence is interested in.
Reportedly, Woodley is keen to dethrone Lawrence as one of the most successful actress, and this is despite Lawrence being a great source of support to Woodley.
"A few years ago, Jennifer gave her career advice, and ever since then, Shailene's been obsessed," a source told In Touch, according to Celeb Dirty Laundry.
Recently, Woodley chopped off her long locks for charity, and the "The Secret Life of American Teenager" star's look has a strong resemblance to Lawrence's pixie cut. But it might have been a coincidence as Woodley chopped off the locks for a noble cause.
Woodley donated the chopped off hair to "Children with Hair Loss", an organization that creates wigs for children who are dealing with medically related hair loss problems.
Pointing out another similarity, VH1's The Gossip Table reported that Woodley's red carpet dress that she wore to the Madrid premiere of "Divergent" is very similar to the one Jennifer wore to the 2011 Oscars.
Lawrence has not spoken out about her alleged tiff with Woodley, who has earlier credited the 23-year-old for helping her in her acting career.
In a March interview with Teen Vogue, Woodley said that Lawrence helped her in deciding to take up "Divergent."
Initially, "I said no, and everybody was shocked. I asked Jennifer Lawrence, 'Are you happy with your choice to take on The Hunger Games?' And she said she wouldn't change it for the world.
She told me, 'There are some things—don't make a sex tape, don't do drugs, don't do things in public—that you wouldn't want other people judging you for. But this is the best decision you'll ever make.'"
Actress Shailene Woodley poses backstage with her Favorite Character award for her performance in the film "Divergent" at the 2014 MTV Movie Awards in Los Angeles, California April 13, 2014. REUTERS/Danny Moloshok