The last weekend of September truly belongs to versatile actor/comedian Paresh Rawal with two of his movies - "OMG Oh My God!" and "Kamaal Dhamaal Malamaal" - all set for release on Friday.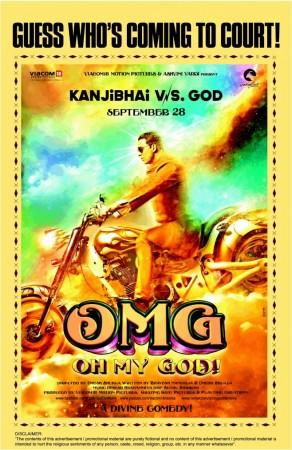 Rawal will be seen along with Akshay Kumar in "OMG Oh My God!", a comedy drama film adapted from Gujarati play "Kanji Virrudh Kanji" which also had Rawal on stage.
The story revolves around a man who lost faith in god and sought revenge for his losses. In a bid to take down the almighty he wreaks havoc in the city, eventually forcing the Lord Krishna to step in to solve the problem.
Besides being the movie's co-producer, Akshay also played the role of Lord Krishna in the film.
The other upcoming movie, "Kamaal Dhamaal Malamaal", is helmed by Priyadarshan and is a Hindi remake of Malayalam super hit, "Marykkundoru Kunjaadu."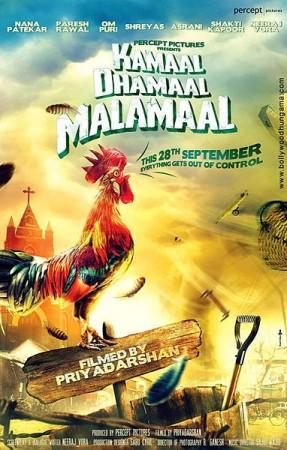 The movie is of a comedy genre and boasts a promising star cast, including Paresh Rawal, Rajpal Yadav, Nana Patekar, Shreyas Talpade, Om Puri and others.
The story of "Kamaal Dhamaal Malamaal" deals with a terrified young man played by Talpade and his struggle for love. A stranger, played by Nana Patekar, comes from nowhere and helps him out in his crisis. But in return, the stranger seeks to fulfil his unrelenting hunger-pangs.
Meanwhile, "Deewana Main Deewana" will finally see the light of day on Sept 28 after years of delay. The film starring Priyanka Chopra and Govinda in the lead roles was filmed almost four years ago but the movie wasn't released due to some reason.
Also, "Cover Story", which will mark Jackie Shroff's comeback, will also hit screens this week. The film is an official remake of acclaimed Dutch film "Interview" in which Shroff plays an established war and political journalist. The story takes its shape when he conducts an interview of an actress.