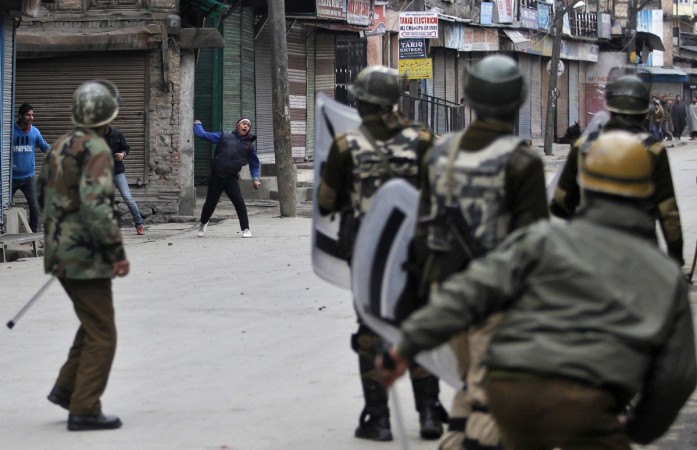 A guard of an ATM branch of a private bank, Riyaz Ahmad Shah has become the first casualty of the pellet guns in the ongoing unrest in Kashmir. The 21-year-old hailing from Chattabal area of downtown Srinagar died, after he was fired at by the Central Reserve Police Forces (CRPF) personnel on Tuesday night, while he was on his way back home.
Shah was coming home after his duty hours. The J&K Police officials confirmed to NDTV that it was unprovoked firing as there was no stone pelting in that area. Riyaz's postmortem report revealed that more than 300 pellets had pierced his body leading to his death.
The pellet guns used as a method of crowd control has already been criticised by the human rights organisations that has led to blinding of more than 100 boys and few girls in the valley.
Hours before Chattabal firing incident, a security guard of an Additional Deputy Commissioner (ADC) opened fire at one of the protestors in Lethpora, Pampore, near Jammu and Srinagar Highway, leading to his death.
Meanwhile, the situation continued to be grim as the restrictions and curfew have been re-imposed in many parts of the valley from where it was relaxed.
Nearly 52 people have been killed and more than 3,000 injured in the clashes between protestors and security forces after Hizbul Mujahideen Commander, Burhan Wani was killed in an encounter in South Kashmir on July 8.
Educational institutions including schools, colleges and universities have remained shut for nearly a month now. Even as the Mehbooba Mufti-led PDP-BJP government has directed the employees in government offices to resume their duties, thin attendance was reported at workplaces.
"We are afraid to even venture out. Riyaz who was killed last night had simply gone out to attend his duty. But he met the same fate as a protestor. Under such circumstances, how can we be asked to report to our work? For us, remaining alive is the priority," Hilal Ahmad, an employee of the Consumers and Public Affairs Department told the International Business Times, India.