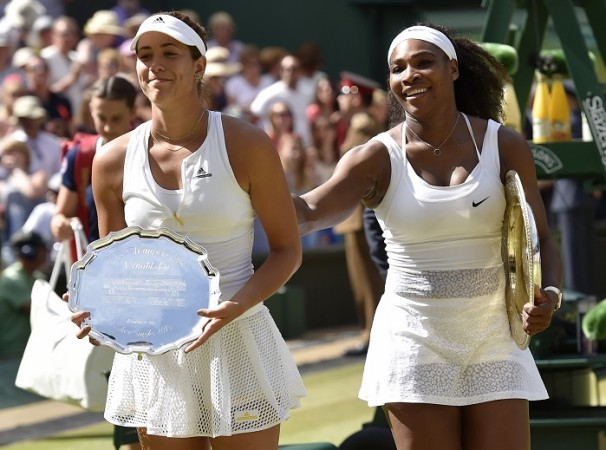 Serena Williams will know she has not been at her best in this French Open. And yet, here she is, in another Grand Slam final, looking for another major title. Standing in her way this time around is Garbine Muguruza, the Spaniard, who just keeps improving with every passing tournament.
Last year, Serena saw off the stiff challenge of a first-time Grand Slam finalist – Lucie Safarova – in three sets, and in 2016, the world number one will be up against a first time French Open finalist. Muguruza reached her first ever Grand Slam final in Wimbledon last year, where she lost to – no prizes for guessing – Serena in straight sets.
Get the report anf final score of the women's singles final HERE

That match was a lot closer than the score of 6-4, 6-4 suggests, and with Serena struggling for rhythm and a peak fitness, Muguruza will know, if she brings her A-Game, she could cause an upset and with it lift her first ever Grand Slam title.
"Finals have to be played by the best players," Muguruza told Roland Garros' official website. "The two best players of the tournament are there. I'm feeling really good. I have gained a lot of experience really quickly. I will focus only on what I must do, rather than any other things, which I cannot control.
"She and I are players who like dictating the game. We like dominating. I'm going to fight for each point. There will be moments when she'll be dominating, and maybe at times I will be dominating. I think I can be a tough opponent, too."
She certainly was that in the Wimbledon final in 2015, and while there were a lot of positives to take from that match, Muguruza is keen to just focus on this French Open final. "It's not that I don't want to talk about Wimbledon," the No.4 seed added. "It was a first final.
"The opponent was tough to beat. I was tense. It was difficult for me to manage stress. The surface was of course totally different. It's on grass. I remember three points that I missed and she took advantage of this, but otherwise I wouldn't say I made a very big mistake.
"This time I'll have nothing to lose, so I will try and win against the best tennis player in the world. That's all. I'll try and control my emotions, and I hope I can win this title. Why not?"
Why not indeed. But, if Serena plays to her potential, and those groundstrokes start coming back with interest, as Muguruza, herself, found out in the Wimbledon final, there is little anybody can do.
The American had to bring all her experience to beat Yulia Putintseva and Kiki Bertens in the quarterfinals and semifinals respectively, and it is to that experience Serena will look towards to help her to a fourth French Open title.
"I don't think my mindset is any different," Serena said when asked about how she feels standing just a win away from another Grand Slam title, a title which will draw her level with the legendary Steffi Graf. "Obviously I want to do well and I would like to win.
"But, you know, I think Muguruza has been playing really well. She's been playing a really aggressive game and going for her shots. Regardless, I think it will be a good match. I mean, last time we played here in France she was able to win the match."
Where to Watch Live
The French Open women's singles final between Serena anf Muguruza is scheduled for a 3 p.m. local time (6.30 p.m. IST, 2 p.m. BST, 9 a.m. ET) start at the Philippe Chatrier Court. Below are the live streaming and TV options.
India: TV: Neo Sports and Neo Prime.
USA: TV: Tennis Channel, ESPN and NBC. Live Streaming: Tennis Channel live, Watch ESPN and NBC Sports Live Extra.
UK: TV: ITV. Live Streaming: ITV Player.
Europe: TV: Eurosport. Live Streaming: Eurosport Player.
Middle East and North Africa: TV: BeIN Sports. Live Streaming: BeIN Sports Connect.
Australia: TV: Fox Sports. Live Streaming: Foxtel Play.
Asia: TV: Fox Sports. Live Streaming: Fox Sports Play.