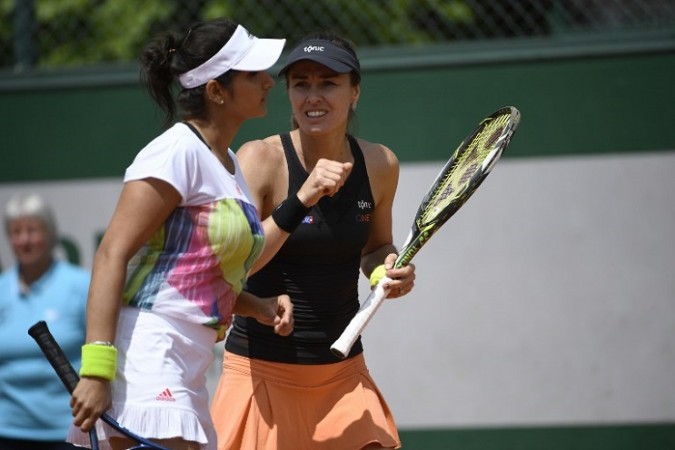 In the end, in this rather underwhelming mixed doubles final, Martina Hingis and Leander Paes' experience proved to be the difference. Up against her Indian compatriot and her women's doubles partner, Sania, with her partner Ivan Dodig, did the best to curb Paes and Hingis' enthusiasm, but this glorious, volley and touch-happy pair could not be stopped, as the India-Swiss duo ran out 4-6, 6-4, 10-8 winners.
The first set was all about Sania and Dodig, with the two always looking in control. On the clay court, those volleys and quick hands were not quite having as much of an impact as they normally do, nullifying Paes and Hingis' threat in the process.
It took a whole for Sania's forehand to warmup, but once it did, it started finding its range, and with Dodig bringing his power in the serve, they won the right points at the right time to take home the first set.
With momentum on their side, it looked like Sania and Dodig would run away with this match, especially with Paes and Hingis looking a little out of sorts. But, Paes and Hingis are champion players for a reason, and despite being far from their best, they dug in there, found a way to break the Sania serve early, and while the match got back on level terms at 3-3, another break of Sania's serve swung the second set the Indo-Swiss pair's way.
Dodig and Sania refused to give up, though, with a couple of sniffs coming their way to get back level in the second set, but the Paes and Hingis experience powered them through in the end, sending this match into a super tie-breaker.
Neither team could be separated in the super tie-breaker after the first ten points, with the score reading 5-5, but just like that Paes and Hingis stepped it up to jump into a 7-5 lead and three points within a French Open mixed doubles title.
Sania, on her serve and courtesy some nice hands from Dodig, pulled it back to 7-6, but, yet again, Paes showed why he is one of the all-time greats in the doubles, anticipating a Sania crosscourt quite brilliantly to fashion a putaway and pull his team to within two points of the title.
Dodig and Sania, however, would not go away with the Indian bringing that monster forehand of her into play to power a return winner, bringing the super tie-breaker back on serve in the process. It soon went back level to 8-8.
Now, it was Hingis' turn to show her class. On the baseline, Hingis, with her backhand, found an impossible crosscourt angle to win the point on Dodig's serve and with it give Paes a chance to serve for the championship. Paes did that, with a strong serve and a low volley giving the unseeded pair a fabulous victory over the No.2 seeds and a complete collection of Grand Slam titles as a pair.