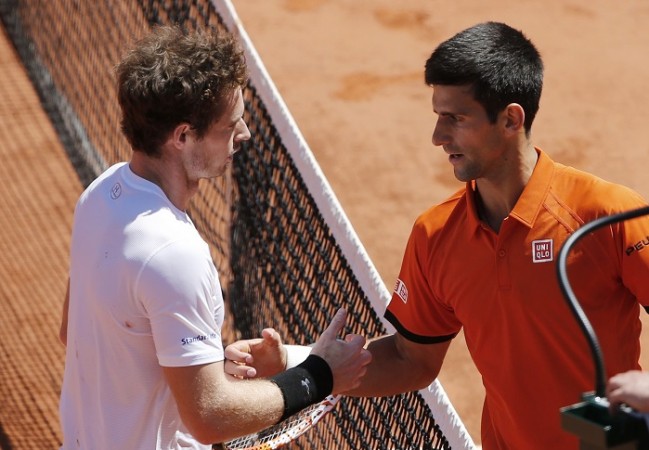 Novak Djokovic started jittery, surrendered the fourth set to Andy Murray, but at the start of the final set, he flicked a switch, and just like that marched to victory and a place in the final of the French Open.
Murray would have come into this match – the remainder of it, that is, after it was postponed to Saturday due to bad light and a storm -- in confident mood, after turning it around in the third set and holding forth in the fourth, but his penchant for giving it away in the final set against Djokovic time and again provide to be his downfall as the world number one clinched the match 6-3, 6-3, 5-7, 5-7, 6-1.
The match today began at 3-3 in the fourth set, and after a couple of typical bashings in the next few games it looked like we were in for a tie-breaker.
However, Murray cranked the pressure up in game number 11, putting Djokovic under pressure and earning himself a couple of break points. He won the second of those as Djokovic pulled a shot wide, giving him the opportunity to serve for the set.
There would be no mistakes in that crucial hold, as Murray picked up the necessary four points to force the match into a decider.
If the momentum was firmly with Murray, Djokovic found a way to get up to his usually exalted levels and the Scot had no answer. In the Australian Open earlier this year, Murray lost the fourth set 6-0 to give Djokovic an easy win, while also doing the same at the Miami Open just a few weeks prior to the start of the French Open.
The same pattern followed in this one as well, as Djokovic broke early to take a 3-0 lead, forcing Murray deeper and deeper down the baseline, before picking up a crucial second break to make it 5-1.
That meant Djokovic would have a couple of bites at the cherry with his serve to win the match, but all he needed was one, winning it to 15 to seal a place against Stanislas Wawrinka in the French Open final, while Murray was left to ponder over another match against Djokovic that puzzlingly got away from him in a hurry.