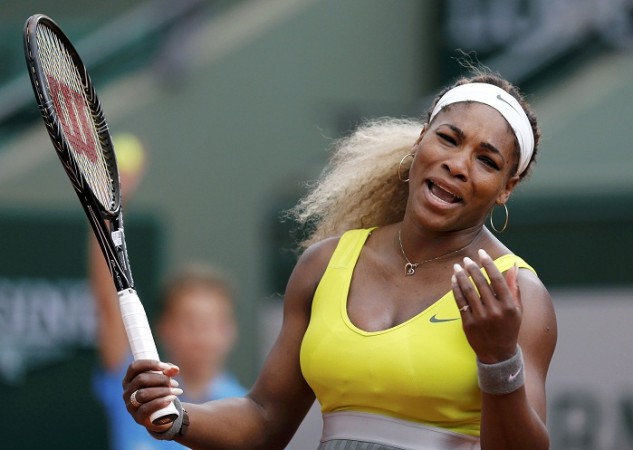 Defending champion Serena Williams crashed out of the French Open by suffering a straight-set defeat in the second round, while the fifth-seeded Maria Sharapova managed to keep her hopes alive by beating her Bulgarian opponent in a hard-fought encounter.
This is first time, since losing to her sister Venus Williams 16 years ago at the Australian Open, Serena has been knocked out of a major event in the second round. The Spanish world number 35 Garbine Muguruza took just over an hour to outclass her American opponent 6-2, 6-2.
Serena struggled to find rhythm in the whole match, as she only won 55 percent points on her first serve. The top-seed only hit eight winners while committing 29 unforced errors in the match.
"It was one of those days," Williams said. "You know, you can't be on every day. I hate to be off during a Grand Slam, but it happens. It's not the end of the world. It is what it is.
"I love it here, but there's always next year. At least I won't have any points to defend next year, so I look forward to it. I'm going to go home and work five times as hard to make sure I never lose again."
The women's draw has been left wide open as Serena joined the second-seeded Li Na, who was beaten a day before, in the early casualties list.
Meanwhile, in another second round encounter, Sharapova reached the third round by defeating Bulgaria's Tsvetana Pironkova 7-5, 6-4. Pironkova broke Sharapova's serve early in the match to take a 4-2 lead, but the Russian quickly got the break back and sealed the set late.
Pironkova struggled with a hip injury in the later parts of the match, as Sharapova took full advantage to seal the encounter. The seventh-seeded Russian will now face either Romania's Monica Niculescu or Argentina's Paula Ormaechea in the third round.
"I started off quite cold, wasn't moving my feet enough. And, yeah, just not really having good rhythm," Sharapova said. "Once I got the break back, I started feeling a bit more aggressive and much better about my game, and I was able to hold that until the end of the match."
In men's singles, fourth seed Roger Federer reached the third round by defeating Argentine Diego Sebastian Schwartzman 6-3, 6-4, 6-4. Federer, after suffering an early break, rallied back to register a straight-set victory.
"I've always felt he had a little bit of an upper hand from the baseline," Federer said. "I feel he was doing a really good job being aggressive and making good plays. I wish I could have played a bit more freely today overall. But then again, I think it was a solid match. I served well. That's always the key to stay solid in your own service games."
The second-seeded Novak Djokovic got the better of Frenchman Jeremy Chardy 6-1, 6-4, 6-2 for the ninth straight time. Djokovic will face Croatian Marin Cilic in the third round, who defeated German Tobias Kamke 6-3, 3-6, 6-3, 6-0.
"I'm going to have to be playing even better against Marin next round," said Djokovic. "Since he started working with [Goran] Ivanisevic he's playing very, very, very good. He's a big guy, and he can play really aggressive. If he feels the ball well, he can be dangerous."
Find the Highlights of the French Open HERE.