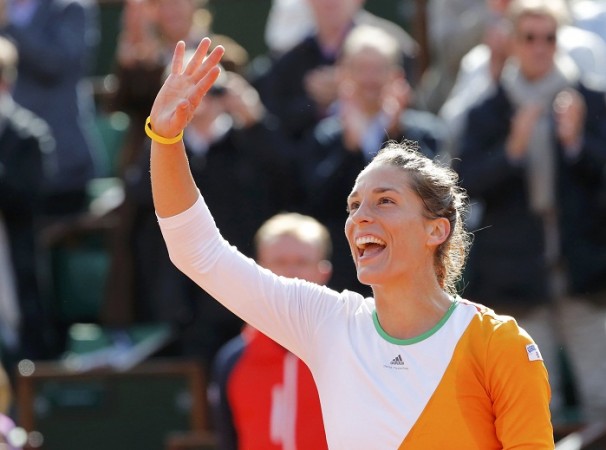 Andrea Petkovic of Germany defeated 10th seeded Italian Sara Errani to reach her first Grand Slam semifinals at the French Open. Petkovic will face the fourth seeded Romanian Simona Halep, who overpowered Russian Svetlana Kuznetsova in her last-eight clash.
In a rain interrupted quarterfinal clash, Petkovic defeated Errani 6-2, 6-2 in just over an hour. Errani won the first two games in the opening set, but Petkovic rallied back and took six straight games to seal the set in just 27 minutes. The second set was no different, as the German played with the same intensity to wrap up the match.
Petkovic fired 26 winners and broke the Italian's serve seven times. The Bosnia-born Petkovic won 56 percent points on her first serve compared to Errani's 39 percent to register an easy victory.
"I had a very good game plan from my coach. It didn't work right at the beginning, so I was getting a little not panicked, but, you know, maybe a little worried," Petkovic said. "But, I trust my coach a great deal, so I told myself, 'Stick with it for this set. If it doesn't work out, you can still change something. If it works out, then keep going'.
"Luckily, I started playing better and started winning. I was trying to be very aggressive on her serve and to get into the net and just make pressure visually on her. I was hoping that her serve might break down if I was being very, very aggressive, and I think it did. So that was one part of the game plan that worked out very well."
Meanwhile, Halep took just one hour and 20 minutes to oust the former French Open champion Kuznetsova 6-2, 6-2 at the Court Suzanne Lenglen. The Romanian, who had never got beyond the second round in her previous attempts at Roland Garros, proved to be too strong for the 2009 champion.
Halep broke Kuznetsova in the second game and built a 2-0 lead, but the 27th seed got the break back and made it 2-2. The fourth seed won the next four games to take the first set in just 33 minutes.
Kuznetsova, who played the second set with a heavily strapped thigh, couldn't pose a serious threat to Halep, who booked her first semifinal appearance in a major tournament.
"It was a great match, a great atmosphere out there," Halep said. "It was my first time on Suzanne Lenglen and it was a perfect day - I cannot say anything more. Maybe it wasn't her best performance, but I'm really happy that I could play my game and to win against her, because she's a great player.
"Now I can look forward for the next round because it's my first semifinal at a Grand Slam and I have to be very focused, very calm, and to try to do everything on court to get the win."
Find the highlights of both women's quarterfinals matches HERE, HERE and HERE.