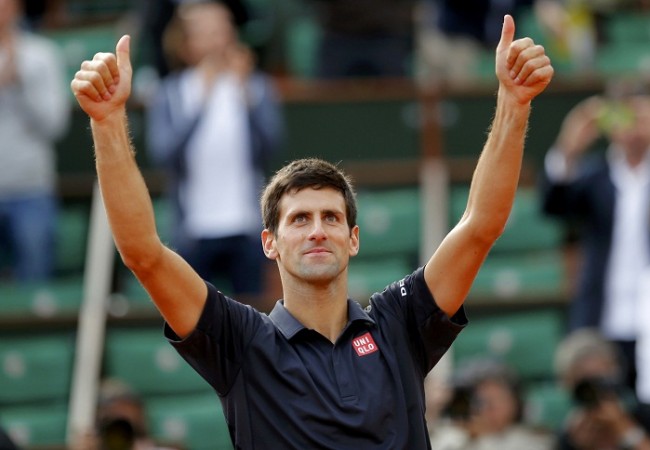 Heading into the French Open quarterfinal match against Milos Raonic, Novak Djokovic said he was wary of facing the Canadian's booming serve. But at the end of two hours and 22 minutes, it was Raonic who just could not crack Djokovic's serve or flawless play, despite the Serbian not exactly being at his best.
The first two sets of this quarterfinal were close, even if Djokovic always looked like the man in control, with the world number two taking the first two sets 7-5, 7-6 (7-5), before settling down a little bit more to take the final one 6-4 and move into another semifinal at Roland Garros.
It was not vintage Djokovic, far from it, but at the end of the day, Raonic just did not have a bigger repertoire of strokes or the big match nous to make the Serbian sweat more than he needed to.
"Even though it was a straight set win, few points here and there kind of decided the winner," Djokovic said after the match. "That's what I was expecting. I knew that he's going to serve and I'm not going to have many opportunities, but when I do have them, I should use them. I have done well."
Raonic, who fired 21 aces, admitted Djokovic just did not allow him to control too many points, unlike their previous match at the Rome Masters, when the Canadian ran his opponent really close.
"He was not letting me dictate as much as I was able to in Rome," said Raonic. "He was opening up a little bit more with his backhand down the line, where I felt I put more pressure on him in Rome where he wasn't able to use that as much. I think that's where I was struggling to get on top of him. My serve kept it close for most of those moments."
Djokovic ended Raonic's attempt to become the first Canadian in 91 years to make the semifinal of a Grand Slam, and now he will try to stop Ernests Gulbis from making his first major final when the two lock horns in the last-four.
Gulbis was just in the zone against Tomas Berdych, barely giving the Czech a sniff in a comfortable straight set 6-3, 6-2, 6-4 victory. None of the previous eight players to beat Roger Federer in a Grand Slam had gone onto win their next match, but Gulbis put that jinx to rest with an assured performance which would have definitely made Djokovic stand up and take notice.
"It's very special. Today was the best match of the tournament, I was doing everything right," the never-short-of-an-interesting-quote Gulbis said. "Tomas got a bit upset that I was hitting all of the lines. I'm sorry, but that's part of the game."