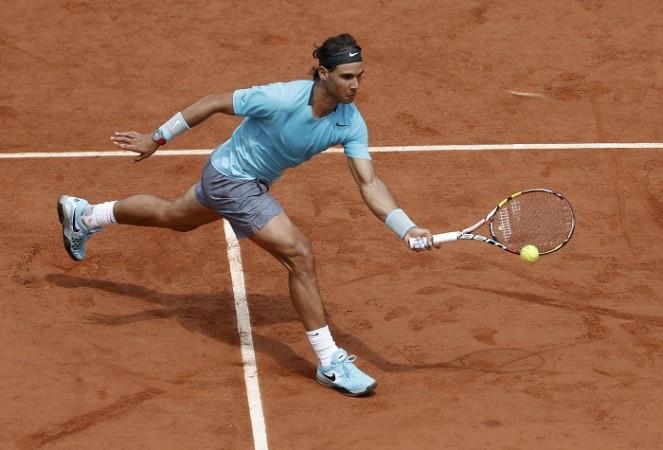 A blockbuster men's singles quarterfinal will be on show at the French Open on Wednesday as Rafael Nadal looks to keep his title defence on course with a victory over Spanish compatriot David Ferrer.
Where to Watch Live:
The quarterfinal is scheduled to be played at the Suzanne Lenglen stadium with the match set to start after the match between Svetlana Kuznetsova and Simona Halep which begins at 2 pm local time (5.30 pm IST). Live coverage in India will be on Neo Sports and Neo Prime. International viewers, including India, can catch the action via live streaming HERE or HERE. Listen to the action HERE. Viewers in the US can live stream the matches HERE or HERE, while South Africa and Sub Saharan Africa viewers can catch the action HERE. The matches can be live streamed by UK viewers HERE.
Nadal has not been at his absolute best during the clay court season, but signs have pointed towards him getting back to his best in the last couple of matches, especially in his fourth round thumping of Serbian Dusan Lajovic on Monday.
Ferrer has not had the best of times against his great friend over the years, bearing the brunt of Nadal's wrath in last year's final at Roland Garros as the left-hander stormed to his eighth French Open title.
However, Ferrer, not having the best of seasons, did show he is capable of beating his quarterfinal opponent on clay at the Monte Carlo Masters a few weeks back, picking up his first win on clay against Nadal in ten years.
"I think that I am playing a little bit better than when I was playing against him in Monte Carlo, but I think he's playing great, too," Nadal said of the upcoming matchup. "He played three weeks in a row at a very high level. In Madrid he played great, in Rome he played great, and he's playing great here.
"He's coming to the match with confidence and with confidence that he beat me the last time. It will be a tough one. I know how to play against him and to have chances to win I need to play very well. That's what I'm going to try. If not, it will be impossible."
Ferrer knows he will have to be at his absolute best to stand a chance of running Nadal close at the French Open, Nadal's very own backyard for the past eight years.
"I will try to do my best," said Ferrer. "I will try to play aggressively with my forehand and try to finish the points at the net. But of course it's going to be difficult with Rafael on a clay court. Tactically, I will have to be perfect.
"I hope that I will instil some doubts in Rafa's mind, but if we play at our best level, both of us, he will be the better player. So I will pull out all the stops to play well without making errors, and we'll see what's going to happen."
Ferrer admitted the nerves got the better of him in last year's final, as Nadal romped home in straight sets dropping just eight games.
"I was very nervous [in last year's in the final]. I was jittery. It was a little bit too much for me. But now I'm calmer, I've had time to adapt," he added. "I think that I will be calmer, more serene, but I don't know exactly what will be my state of mind when I play against Rafa. I won't think about the final that took place last year."