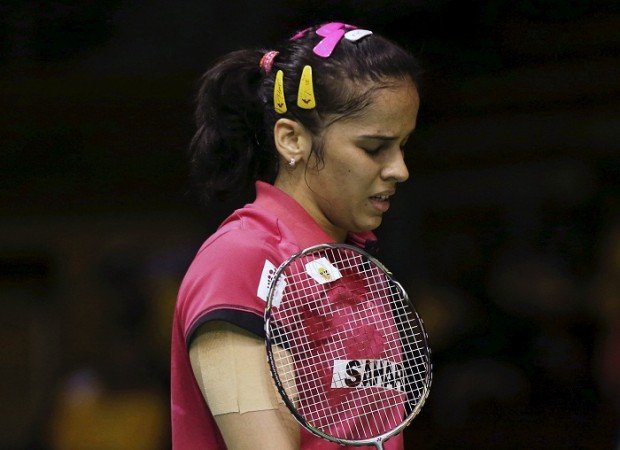 After winning the silver medal in the world championships, Saina Nehwal has gone cold in the badminton circuit as the shuttler has been exiting early from various competitions.
Japanese Minatsu Mitani has posed a strong challenge ever since, as Saina has suffered two losses against the Japanese, who knocked her out of the Denmark Open last week and also the Japan Open in September.
Hence Saina has a chance to correct her recent performances as the top seed faces Mitani in the second round of the French Open on Thursday. Saina will not take Mitani lightly as the Japanese will be high on confidence after huge defeats over the Indian.
What surprises one even more is the nature of defeat Saina has suffered in her last two matches against Mitani. Saina lost both the matches in straight sets, which India badminton fans are not acquainted to.
Even if one compares Saina's overall head-to-head record against Mitani, the Japanese has been posing a huge problem for the world number one, who has a 5-4 win-loss record. Hence, such facts makes one realise the difficult opponent in Mitani for Saina in the second round.
Saina made it to the second round of the French Open after defeating Canada's Michelle Li in straight sets with the score reading 21-18 and 21-13, while Mitani did not even have to break any sweat in her first round encounter as Germany's Karin Schnaase had to retire early. Hence, the Japanese should be fresh for the crucial encounter.
Saina, if well observed in her matches of late, has not been playing too bad, but her body language seems to be a cause of concern especially when she goes down in the first set and basically her confidence hits a low in the other set.
There is no doubt about the quality in the shuttler as she has won a number of competitions in the past. Along with it, she is the current world number one. Saina just needs one huge victory to get her confidence back and one hopes it is on Thursday against Mitani.
Where to follow live
Saina Nehwal vs Minatsu Mitani live match starts at 7:50pm local time (11pm IST) start. There is no live TV coverage for Saina Nehwal vs Minatsu Mitani match in India.
The live scorecard of the all the French Open matches can be found here.
*Expected start time could change as per the duration of other matches.