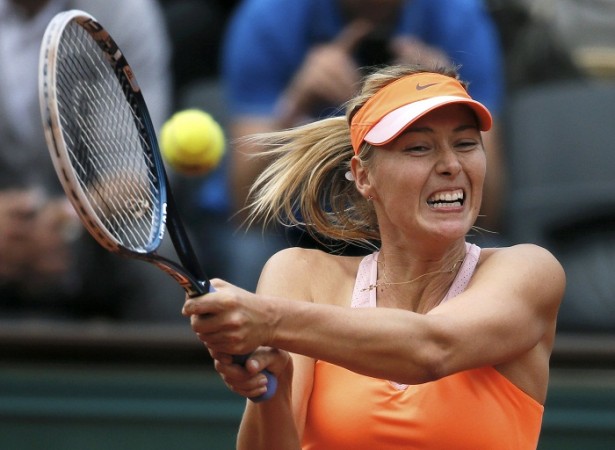 Maria Sharapova is set to face Australia's Samantha Stosur, who knocked out Australian Open finalist and ninth seed Dominika Cibulkova, in the fourth round of the French Open on Sunday.
Sharapova has emerged the favourite to clinch her second French Open title of late as defending champion Serena Williams and other top rivals Li Na and Agnieszka Radwanska have already been knocked out of the tournament.
The Russian took just 51 minutes to outclass Paula Ormaechea of Argentina 6-0, 6-0 in the third round. It was a convincing win for the 2012 Roland Garros champion as she looked better and better as the match progressed.
Sharapova has lost just two matches against Stosur out of 15, and during their recent clash at the Madrid Masters, she defeated the Aussie in straight sets. However, the seventh seed stressed that despite her recent successes over Stosur, this one is not going be an easy match.
"I think this is one of her favourite surfaces to play on and a lot of her successes come on clay," Sharapova said. "Despite my record against her and my victory a few weeks ago, this is a new match. I'm sure, you know, she's ready for the match against me, and I will be, too."
"I look forward to that challenge. She has a great serve, she uses the court extremely well, moves well on it."
Stosur feels she has played well against Sharapova in the past and is capable of beating her. The 19th seed said that she would approach the match like any other game, and give it her best shot and try to pull off another upset in the competition.
"I will approach it like I do with most matches," Stosur said. "Even today I knew I had a good head to head, but you certainly don't take anything for granted. I knew she was going to come out there and try and change that."
Stosur also pointed out that she is feeling comfortable while playing on clay at the moment and is happy with her performance.
"I don't know. It's kind of hard to compare the two, but, yeah, I don't know. Maybe very similar. But regardless, I do feel very comfortable at the moment. I'm very pleased with the way I'm playing. So whether it's the same or better or worse, I don't know, but whatever it is I'm quite happy with it."
Where to Watch Live
The match between Maria Sharapova and Samantha Stosur is scheduled for 10:00 pm IST, 4:30 pm GMT and 12:30 pm ET start, with live coverage on NBC Sports and ESPN 2 in the US and NEO Prime and NEO Sports in India. International viewers, including India, can catch the action via live streaming HERE or HERE. Listen to the action HERE. Viewers in the US can live stream the matches HERE or HERE, while the tie can be live streamed by the UK viewers HERE.