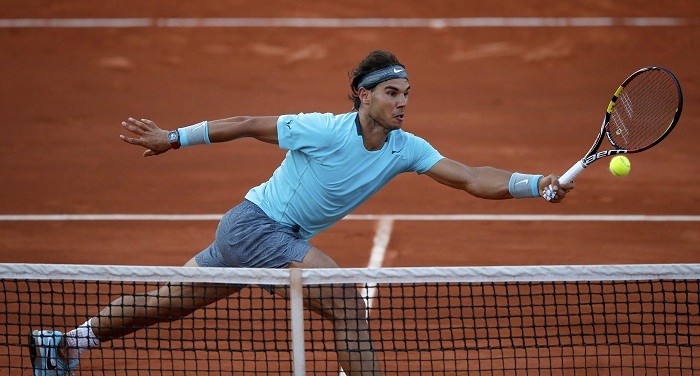 Rafael Nadal vs Andy Murray is not a match that fans have unfortunately been able to witness at the Grand Slams for a few years. However, that near three-year wait is over with the two big guns set to slug it out in the semifinals of the French Open on Friday.
Where to Watch Live:
Nadal vs Murray is scheduled to start after the first semifinal between Djokovic and Gulbis which begins at 1 pm local time (4.30 pm IST). Live coverage will be on Neo Sports and Neo Prime in India. International viewers, including India, can catch the action via live streaming HERE or HERE. Listen to the action HERE. The massive match can be live streamed by UK viewers HERE. Viewers in the US can live stream the semifinal HERE or HERE, while South Africa and Sub Saharan Africa viewers can catch the action HERE.
Nadal, while still not quite looking at his best, has enjoyed a relatively comfortable journey into the semifinals, overcoming a first set loss to dispatch Spanish compatriot David Ferrer in the quarterfinals.
In Murray, Nadal will be up against a player with plenty of big match nous, and someone who has looked better and better as the clay court season has progressed.
"I'm not surprised Andy is in the semifinals," Nadal said. "He's a candidate to win Roland Garros. Before the tournament he was a candidate to win Roland Garros for me, so it's not a surprise."
Nadal eked out a victory over three sets in the Rome Masters recently when Murray stormed to take a one-set lead with some blistering tennis. Nadal knows about all the threats that Murray will pose, with the Spaniard needing to be at his best to stop the Brit from making the final.
"He was playing much better in Rome, I think. It was a very, very tough match against him," Nadal added. "A good one for me, too. An important victory for me.
"It will be a big match and a big challenge for me. I'm going to try my best. I know I have to play very well if I want to have chances to win."
Murray reached the semis with an outrageous five-set win over French Gale Monfils, where the Scot looked on course for a comfortable straight-set win by winning the first two, before collapsing to allow Monfils back into the match. With momentum sweeping against him, Murray, though, found that extra gear just when he needed it to bagel his French opponent in the fifth set and with it set up the clash with Nadal.
"I expect a lot of myself. I put a lot of pressure on myself to perform well at these events, and thankfully I have done okay so far," Murray said. "There's still hopefully a long way to go in the tournament.
"I obviously know how to win these tournaments now, [in 2011, his last semifinal appearance at Roland Garros] I didn't. I was trying extremely hard, but I had never done it. So hopefully that will give me a little bit more confidence and belief when I go on the court on Friday."
Nadal holds a 6-2 head-to-head record over Murray in Grand Slams, but on Friday he will be up against an opponent who has finally been there and done it all, winning a couple of majors in the US Open and Wimbledon. Nadal, though, if he is at his best, will be unstoppable, no matter who his opponent is.