Novak Djokovic had been coached by Boris Becker in the past, and now another legend, Andre Agassi will mentor the player for the French Open. Though Agassi initially said no to Djokovic's offer, it was his wife and former tennis star Steffi Graff, who played an important hand in changing his decision.
The Serbian has not been able to hit high notes this season after winning the Qatar Open in January. Djokovic also decided to part ways with his entire coaching staff, including head coach Marian Vajda earlier in the month.
Djokovic did not have an official coach when he played Madrid Open and Italian Open. He looked a better player in both the tournaments, showed some marked improvements, reaching the semifinals and finals of competitions respectively.
Djokovic, after his loss in the finals of the Rome Masters, announced Agassi as his next coach.
The eight-time grand slam champion from America explained he was not keen on the job, but Steffi persuaded him to take it.
"Novak called me about three weeks ago and I said no at the start. But my wife (Steffi Graf) said 'you should go, you will love it'. We had organised a family trip during Roland Garros anyway which was planned for a long time," Agassi told French television programme Tout le Sport.
"So I hope to see one or two of Novak's matches and try to bring to him what I can because even a small remark can do a lot. The only agreement we have is for Paris, and given our discussions, it's not a full-time job for me."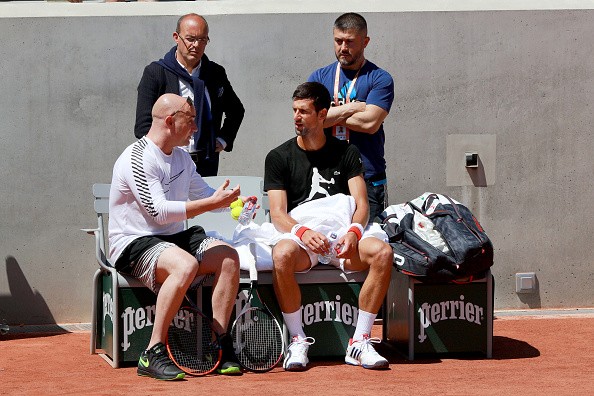 Agassi will try to help Djokovic improve his game and ensure a good French Open campaign.
Djokovic, without a shadow of a doubt, is one of the best players in the world as his 12 grand slams would attest. The problem doesn't squarely rest on his on court game, but also at the mental level. The fact that he isn't able to perform at the optimum levels must be bugging him to no end.
And Agassi could play an important role along in changing his mindset. Agassi will try to instil confidence in Djokovic to help him defend the French Open title.
If Djokovic flourishes under Agassi in the French Open, the Serbian should send a thank you gift to Steffi as a token of gratitude.