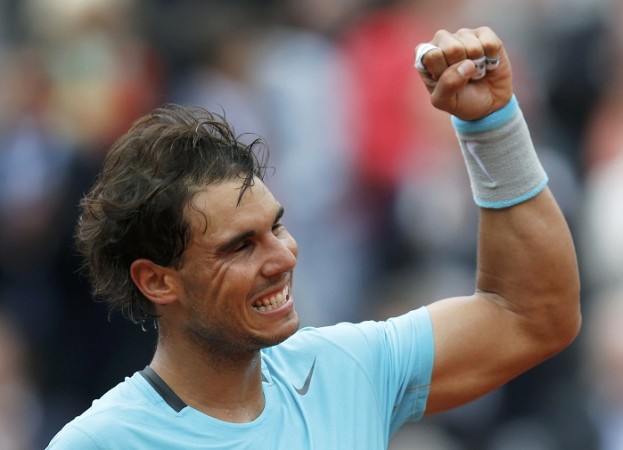 It is almost impossible now to imagine tennis without Rafael Nadal trying to overpower the verve and guile of Roger Federer, or Nadal slugging it out in the baseline with Novak Djokovic for hours and hours.
However, as the saying goes: "all good things must come to an end", and Nadal, the eight-time French Open champion, and one of the all-time greats, believes this golden era of tennis is on its last legs; soon enough, when you turn around, the next batch of greats looking to etch their own names in history would have taken over.
"Our generation is now on the way out, you know, like [Andy] Murray, Djokovic, [David] Ferrer, and [Tomas] Berdych and others, and [Jo-Wilfried] Tsonga, as well, we have been here for a long while," Nadal told reporters during a post-match press conference after his comfortable second round win over up-and-coming Austrian youngster Dominic Thiem in the French Open.
"A generation is walking away and others will replace us. It will not come overnight, but it will come.
"I am almost 28. Djokovic and Andy are 27. Federer is, I don't know, 32. The new generation, new players, have to come. We're not going to be here for 10 more years."
That last sentence was followed by a bit of a smile, because watching Nadal play on that favourite red clay of his, the thought of seeing a man in the twilight of his career would not have even remotely surfaced.
The second round victory over Thiem was Nadal's 61st victory at Roland Garros in 62 matches – showing just how dominant the left-handed tyro has been at the French Open.
There have been signs, though, that Nadal's love affair with clay might just be on the wane after an underwhelming season on the surface - by his own ridiculously high standards of course - heading into the French Open, but on Thursday, the Spaniard looked more like the invincible player we have come to witness over the past eight years and some.
"I played the way I wanted to play," he added. "I resisted when he was going for his shots, very powerful forehand and a good backhand. When I had to play long points I did well. When I had to attack and move him, I think I did well.
"I went to the net a few times. I'm happy that the way I returned."
Nadal vs Federer, Djokovic vs Nadal, Murray vs Djokovic matches have given us some of the best tennis you can imagine (as long as you are not a serve-and-volley aficionado, that is), and a few more years of those rip-roaring contests would be welcome, and then some.