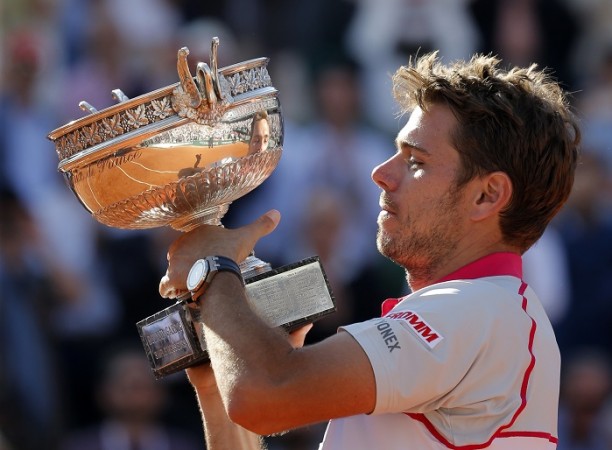 To beat Novak Djokovic in 2015 you need to produce tennis from another planet.
Well, in the French Open final, Stanislas Wawrinka produced that level, and then some. The serves were big, the forehands were dreamy and the single-handed backhand dreamier, with that trademark shot of the Swiss fittingly winning him the match, which went in his favour in a stunning four sets 4-6, 6-4, 6-3, 6-4.
Djokovic is the man who has been playing the kind of tennis which has just made everyone shake their heads in near disbelief, but Sunday was Wawrinka's day, with the 30-year-old producing some sublime tennis to clinch his first Roland Garros title, and leave Djokovic waiting another year, at least, to complete that career Grand Slam.
It looked like it would be another one of those walks in the park for Djokovic as he started strong, breaking Wawrinka in the seventh game to take control of the first set, before going on to win it 6-4.
Nobody would have predicted what followed in the next three sets. Wawrinka, with nothing to lose and absolutely everything to gain, found his rhythm, with those ridiculous backhands of his doing the damage, while the forehand didn't fare too badly either.
Egged on by his coach Magnus Norman, a former finalist here, Wawrinka showed just why he made that quarterfinal win over Roger Federer look so easy, by producing tennis of the most highest of orders.
In almost every single service game of Djokovic's in the second set, Wawrinka threatened, and there were moments when you felt it was going to be a match of missed chances for the Swiss – he failed to convert any of his first five break points. However, in the most important game of them all, with Wawrinka leading 5-4, Djokovic felt the pressure too hot to handle, with one of many long rallies getting the No.8 seed the game and the set.
The momentum was firmly in the Wawrinka camp now, and with the Swiss serving first again for the third straight set, he dictated the pace of play. A break in the sixth game to love against Djokovic, who just did not have an answer to his opponent's stunning tennis, looking utterly overwhelmed, gave Wawrinka the lead needed to eventually wrap up the third set and with it take a 2-1 lead.
Djokovic had to come out all guns blazing in the fourth set to stop the match from running away from him, and serving first for the first time, the Serbian did just that, motoring to a 3-0 lead as he started to somewhat look like the Djokovic who has terrorised players throughout this year so far.
However, Wawrinka was in that ain't-no-way-you're-coming-near zone, and quickly enough, he regained his bearings, rallying the life out of Djokovic to pull the set back to 3-3.
This was a proper slugfest now, and Djokovic was coming up second best. Both players had further break points to take the lead in the fourth set, but it looked like a matter of time before Wawrinka would out-Djokovic Djokovic. So he did in the ninth game, to make it 5-4 and put himself in a serving-for-the-match situation.
There were a couple of jittery moments in that amazing game, with Wawrinka missing his first match point, but the Swiss would not be denied, and rightly too, with a backhand winner down the line fittingly giving him his first French Open crown and second Grand Slam title and leaving Djokovic in tears of disbelief.