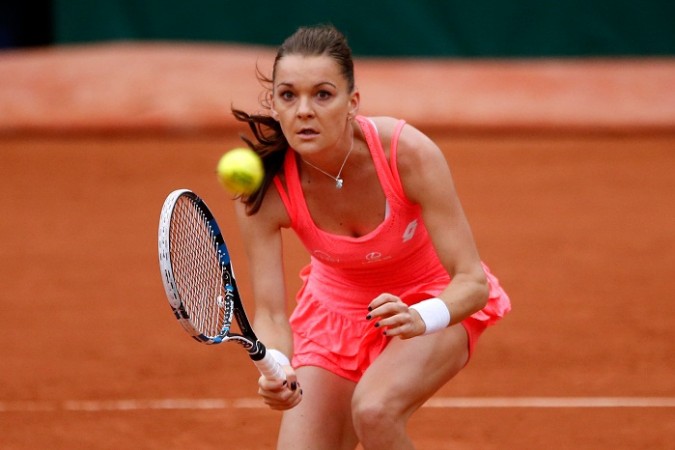 Rain has played spoilsport in the ongoing French Open and Tuesday was no different, with only a few matches producing results. Amongst those few results, there were two major upsets in the women's singles, as second seed Agnieszka Radswanka and sixth seed Simona Halep were ousted from the competition.
In the men's section, one of the most anticipated matches of the day between Andy Murray and Richard Gasquet did not even start due to rain, and has been postponed to Wednesday. Many of the other matches also suffered the same fate.
Radwanksa, who started her fourth round match against Tsvetana Pironkova on Sunday, could not finish her clash against the Bulgarian on the same day due to rain. The score read 6-2, 3-0 when the rains came, so the match continued on Tuesday and Pironkova was on a different league altogether, while the second seed could not shine at all.
Radwanska only won three of the 15 games on Tuesday, which resulted in her loss. The final score read 2-6, 6-3, 6-3 in favour of the Bulgarian, who made her maiden French Open quarterfinal appearance. The second seed was gutted with the French Open organisers, questioning them, about their decision to allow players to continue in the rain.
"I'm just so surprised and angry that we have to play in the rain. I mean, it's not a $10,000 tournament. It's a Grand Slam. How can you allow players to play in the rain? I don't know who allows us to play in that kind of conditions. I don't think they really care what we think. I think they care about other things," New York Post quoted Radwanska as saying.
The story was quite similar for Simona Halep, who lost to Sam Stosur in straight sets. The Australian definitely looked the better of the two after a close first set, with Stosur winning 7-6 (7-0), 6-3.
Halep, like Radwanska, was disappointed that she had to play on a court not suited for action.
"I have no words. To play tennis matches during the rain I think it's a bit too much. The court was not good. The balls were completely wet. I didn't feel safe. No one cares about the players, in my opinion. I don't care that I lost the match today, but I was close to [getting] injured with my back, so ... that's a big problem," Halep said.
With rain having dominated the French Open so far, Day 11 is expected to be action-packed – if there are no showers -- as top players like Djokovic, who will continue his match against Roberto Bautista Agut, interestingly poised at 3-6, 6-4, 4-1, Murray and Serena Williams will feature on Wednesday.