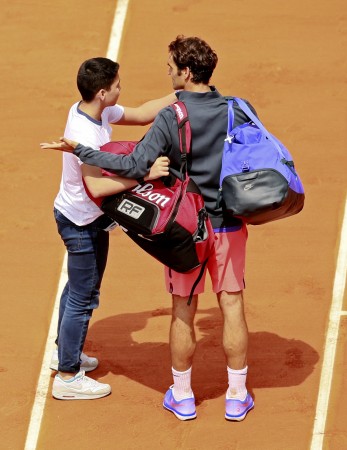 Just as he was preparing to leave the court after defeating Alejan-dro Falla in the first round of the Roland Garros, Roger Federer was surprised when a fan approached him for a selfie.
The Swiss ace was not a happy person when the young fan put his arm around him and tried to take a selfie with his cell phone, and tried to move away to avoid a picture at the centre court.
Despite being pushed gently by Federer, the young fan was eager to snap a selfie, but officials came in and pulled the boy away from him. The former world number one was clearly startled with what had just unfolded.
The second seed of the competition even looked at the umpire with amusement, suggesting the officials could have rushed to the court more quickly.
Considering that the French Open is one of the biggest tournaments in the ATP circuit, the security was not up to the mark.
Roger Federer later said this was not the first time it has happened, as a similar incident occurred during practice as well.
"I am not happy about it. It happened yesterday in the practice, too. It's just a kid, but then three more kids came. And today on centre court where you would think this is a place where nobody can come on, just wanders on and nothing happens," AFP quoted Federer as saying.
He said that immediate steps should be taken to improve players' safety.
"Something needs to happen quickly. Normally I only speak on behalf of myself, but in this situation I think I can speak on behalf of all the players, that that's where you do your job, that's where you want to feel safe.
"And so clearly I'm not happy about it. But nothing happened, so I'm relieved. But clearly it wasn't a nice situation to be in," Federer said.
It is time for the authorities to look into the matter seriously and take correct measures to avoid such incidents in future.
Earlier during the game, Roger Federer showed his class against Alejan-dro Falla, as the Swiss defeated the Colombian in straight sets with the score reading 6-3, 6-3 and 6-4. Federer looked in full control, hitting 42 winners.
Federer faces Spain's Marcel Granollers in the second round of the competition.
Watch the video where the young boy attempts a selfie with Federer.