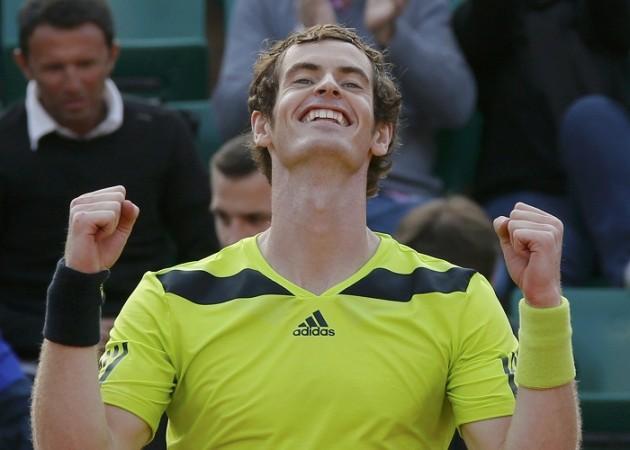 France's 23rd seed Gael Monfils has kept home hopes alive by booking a quarterfinal clash with Andy Murray at the French Open, while Italian Sara Errani knocked out Serbian Jelena Jankovic to advance into the last-eight of Roland Garros.
Wimbledon champion Murray defeated Spaniard Fernando Verdasco 6-4, 7-5, 7-6 (7-3) to reach his 13th consecutive Grand Slam quarterfinal. Verdasco was expected to give Murray tough competition on clay, but the Brit defeated the 24th seed in straight sets.
The seventh seed, playing after a marathon four-hour long third round encounter, easily took the first two sets before Verdasco forced the tiebreaker in the third. Murray kept his composure and capitalised on unforced errors committed by Verdasco in crucial moments to cruise into the quarters.
"I was tired after the match against Kohlschreiber," admitted Murray. "I thought I dictated as many points as I could today. It's not always possible, because you're playing against top tennis players. He's got a lot of firepower as well. Did a good job of that."
"It's going to be an exciting match," added Murray about facing Monfils in the next round. "I'm sure there will be some fun rallies. There always is when I have played against him. We haven't played against each other for quite a while, so I'm looking forward to it."
Monfils booked that high-profile match with Murray by defeating the unseeded Guillermo Garcia-Lopez 6-0, 6-2, 7-5 in just under two hours. Monfils was at his dazzling best, with superb court covering and shot selection, winning the opening set in just 22 minutes.
After going down in the second set as well, Garcia-Lopez tried to rally back in the third, breaking the Frenchman's serve in the fourth game. In a closely contested third set, Monfils finally broke his opponent's serve in the 11th game, before holding his serve in the next to cruise into the last-eight.
"I tried to be extremely accurate to make tactical choices in a very accurate way," said Monfils. "I thought it went well. Every day, I gather more steam and power, and every time I win, then I improve and I play better."
The 27-year-old, who is bidding to reach the semifinals of Roland Garros for the second time, said Murray is a tough opponent and he plays well on clay as well.
"He won Wimbledon, so for sure mentally it will be different for him," said Monfils. "He has proved that on clay he's a tough opponent, too. We grew up pretty much together. It's been a long time I know him, and it's always fun to play against him.
In the women's draw, No. 10 seed Errani defeated sixth seed Jankovic 7-6 (7-5), 6-2 to book her quarterfinal clash with Germany's Andrea Petkovic. In the closely contested first set both players exchanged four breaks each, but the Italian sealed the set in the tiebreaker.
In the second set, Errani raced to a 3-0 lead against the former world number one and closed out the match in her second match point.
"As the match got longer and longer, I got more and more tired," Jankovic commented. "All those drop shots, I did not do well. When I was close to the net, she always got me. She was very solid. She's not going to give you anything, that's for sure - you have to beat her. She plays so well on clay."