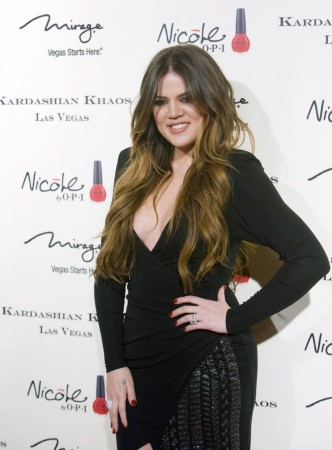 Khloe Kardashian reportedly dumped rapper boyfriend French Montana earlier this month because he tried to cheat on the reality star with her best friend Malika Haqq.
At the time of the split, it was reported that Kardashian was tired of his neediness and clingy nature. But now, a Media Take Out exclusively noted that it could be due to his straying ways. Kardashian's boyfriend of eight months has been allegedly sending inappropriate texts to her best friend, and Kardashian kicked him to the curb after she broke into his phone and found the messages.
"Khloe broke into [French's] phone and saw him sending all kinds of inappropriate texts to her girl [Malaika]. She blacked out on dude, and that's why they broke up," a source told the gossip website.
As for Kardashian's relationship with Haqq, the source pointed out that the reality show star isn't blaming her friend. "Khloe has been down with Malaika since forever. They have the kind of friendship that even if Malaika was f*cking Khloe's man, they'd still be friends." The insider added, "Besides, I don't think Khloe was into [French Montana] like that."
However, the Media Take Out story should be taken with a pinch of salt, as the gossip website is known to publish false claims. It also seems unlikely that Haqq, who has been friends with Kardashian since childhood, would conceal the fact that Montana was sending her inappropriate messages.
Even before the sexting scandal emerged, there have been reports that the Kardashian clan does not think too high of Montana, and that he is no good for the youngest Kardashian sister. A few months after they started dating in April, Montana was involved in yet another scandal where a news intern said that he tried to hook up with her.
College student Mariela Sanchez is a budding journalist who was attempting to snag an interview with Montana, when he reportedly tried to make out with her. But she escaped before he could take advantage of her, Sanchez told the media at the time.