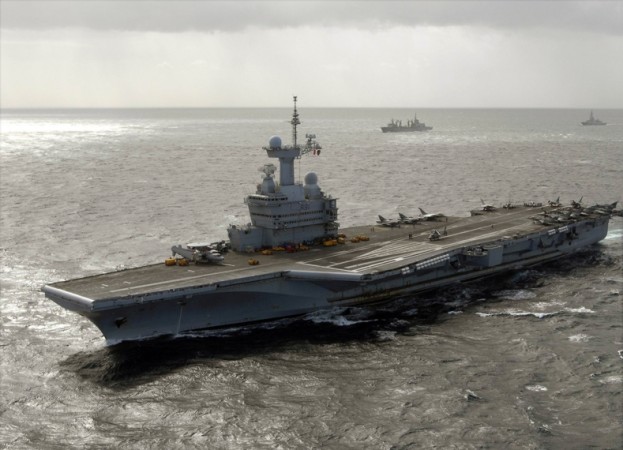 One of the indicators of the expanding strategic ties between India and France is the sending of the French Navy's (Marine Nationale) flagship aircraft carrier Charles de Gaulle (R91) to the Indo-French Naval Exercise 'Varuna'.
This comes in the backdrop of Modi's announcement that India will buy 36 Rafale fighter jets in 'fly-away' conditions to meet its operational requirements.
The Charles de Gaulle nuclear warship was part of the international coalition's Operation Inherent Resolve (OIR), bombing various locations held by the Islamic State (also Isis) in Iraq and Syria. It carried out 10 to 15 sorties a day and has a mix of Dassault Rafale M aircraft and Dassault Super Etendard Modernisé (SEM) fighter aircrafts.
Apart from the above mentioned fighters, the aircraft carrier carries E2C Hawk eye AWACS, Dauphin and Aloutte 3 helicopters.
The aircraft carrier has already reached the coast of Goa marking the start of the 14th edition of Varuna exercise that will be held off the Goa coast, somewhere in the Arabian Sea. This exercise will also see three other French ships.
The aircraft carrier is accompanied by its Task Force 473 that will include frigates Chevalier Paul, a 7,050 tons Horizon-class frigate, Jean de Vienne, a 3,550 tons anti-submarine frigate and Meuse, a tanker. The exercise will also see the participation of the maritime patrol aircraft, The Atlantique 2.
The Varuna Indo-French naval exercise is an annual event between the Indian Navy and the French Navy, this is a integral part of the strategic relationship and cooperation between the two countries.
#VARUNA15 French Aircraft Carrier Charles de Gaulle in Arabian Sea off Goa is ready for Indo-French Naval Exercise. pic.twitter.com/5sCSEdM4sc

— Sitanshu Kar (@SpokespersonMoD) April 23, 2015
#Varuna15 Some more pictures of the French Carrier Charles de Gaulle at Mormugoa harbour.@MEAIndia @manoharparrikar pic.twitter.com/yIeZl6H3h2 — Sitanshu Kar (@SpokespersonMoD) April 23, 2015
This exercise will take place over a period of 10 days from on 23 April to 3 May, 2015.
It has been reported that Indian Navy will be deploying Indian aircraft carrier, possibly INS Viraat along with other ships and aircrafts. The focus of the exercise will be the theatre-level cooperation in aero-naval and anti-submarine warfare.
One of the major attractions in the exercise apart from the French Carrier Charles de Gaulle is Rafale M fighters which are the naval version of the Rafale jets.
Meanwhile, Sitanshu Kar, principal spokesperson, Ministry of Defence has shared pictures of the upgraded Mirage2000 aircrafts that landed after its flight from Istres, France.
First pix of the arrival of 2 upgraded #Mirage2000 at Jamnagar Air Base this afternoon from Istres, France. pic.twitter.com/IAIF9Jaat4

— Sitanshu Kar (@SpokespersonMoD) April 22, 2015
During their long flight, the #Mirage2000 had stop overs at Athens, Luxor, Doha. pic.twitter.com/p1xLlucbbX — Sitanshu Kar (@SpokespersonMoD) April 22, 2015