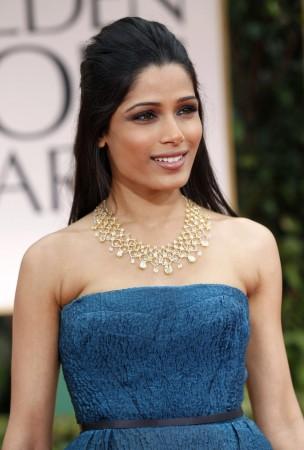 After giving a brilliant performance in "Kai Po Che!" actor Rajkumar Yadav will be seen starring opposite internationally acclaimed actress Freida Pinto in an upcoming Bollywood movie titled "NH10."
The "Slumdog Millionaire" actress who is set to make her debut in Bollywood will reportedly be playing the role of a detective in "NH10."
"NH10" is a road thriller directed by Navdeep Singh. Rajkumar Yadav has reportedly replaced the director's best friend Actor Abhay Deol in the film.
Speaking about his new movie Yadav said, "It's a film entitled 'NH10' meaning National Highway No 10. It will be shot around Delhi. I signed the film because I am a great fan of Navdeep's Manorama Six Feet Under. Having Freida Pinto as my co-star is definitely interesting," Hindustan Times reported.
Yadav, who was also seen in movies like "Chittagong," "Love Sex Aur Dhokha" and "Ragini MMS," has two movies set to release in 2013 including Vikas Behl's "Queen" opposite Kangna Ranaut and Hansal Mehta's "Shahid."
In "Shahid," Yadav plays the role of the real-life lawyer Shahid Azmi.
"It's a film that will benefit immensely from the success of Kai Po Che. It's an important film for me personally as an actor and also for what it has to say," the actor said.
Speaking about his co-star for the upcoming "NH10" Yadav said, "I just met Freida, I was very nervous but she made me feel very comfortable. The best part is that she doesn't come with baggage of being a star in Hollywood. She is a wonderful person. I am really looking forward to work with her," IANS reported.
The filming of "NH10," which is being produced by Vikramaditya Motwane, will reportedly commence from March end.