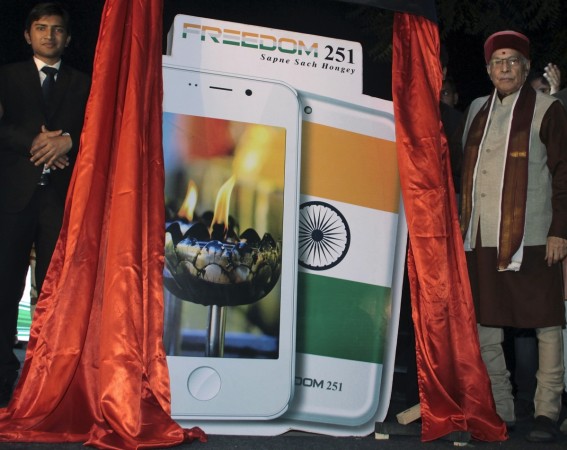 The makers of the world's cheapest smartphone are at it again. Noida-based Ringing Bells announced on Friday that it will finally start the booking of its first budget HD LED TV on Monday, August 15, which is the 70th Indian Independence Day.
Freedom 251, the Rs. 251 smartphone by Ringing Bells, was the center of attraction and also the reason for the company's troubles for a long time. But all that changed when the company started shipping the smartphones to those who pre-booked the device several months ago. It remains to be seen whether the Freedom 9900 HD LED TV, measuring 31.5 inches, will witness the same fate or change people's perception about the company.
Ringing Bells said that the Freedom 9900, which is priced at Rs. 9,990, will start shipping from August 16 and come with cash-on-delivery (COD) option. While it sounds promising, the company did not reveal how many units will be dispatched on day one. Interested customers can place an order for the television from the company's official website.
Like our handset, we are expecting a good response for the television and assure our customers that they will get a quality product in an affordable price in the current market scenario," the company said in a statement, IANS reported.
As it seems, Ringing Bells has come a long way since the whole Freedom 251 drama. At the launch of the Freedom 9900 last month, the company also unveiled six new mobile phones, all of which are priced higher than the first Freedom 251 smartphone. The cheapest smartphone – the Hit – costs Rs. 699 while the premium device – the Elegance – is priced at Rs. 4,499.
Ringing Bells products certainly offer more than their price. For instance, the Freedom 9900 television comes with a screen resolution of 1366x768 pixels, and a contrast ratio of 3000:1. It has two HDMI ports, two USB ports, and two speakers. For its price, it is one of the cheapest HD LED TVs one can buy in India right now. But the competition in the television space is slowly increasing, so there's going to be a disruption soon.