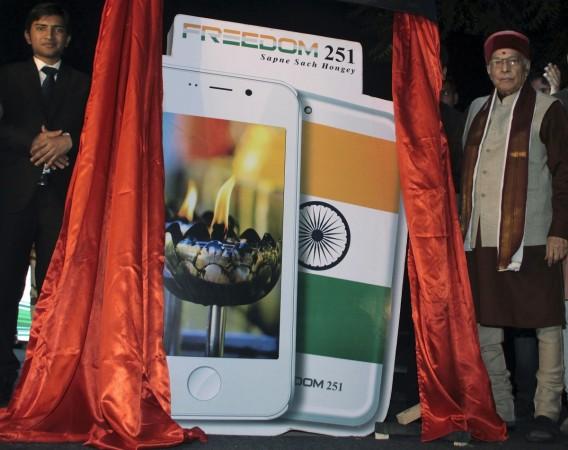 Ringing Bells, after severe criticism over the non-delivery of the world's cheapest smartphone, said that it would finally dispatch the first batch of Freedom 251 smartphone in India on Friday. The company's director Mohit Goel said Ringing Bells delivered over 2,000 phones on Saturday in five Indian states as promised.
Read: After the world's cheapest smartphone, Freedom 251-maker launches cheapest LED TV starting at Rs. 9,990
"Of the 5,000 units of Freedom 251 phones that we committed to deliver in the first phase, we have started the delivery of 2,240 phones today through distributors and couriers," Ringing Bells Director Mohit Goel told PTI.
Ringing Bells had promised the first batch of Freedom 251 to consist of 5,000 units, a significant drop from the 2 lakh shipments its buyers were expecting. The company said that the first set of smartphones will be shipped to Haryana, West Bengal, Uttarakhand, Himachal Pradesh and Bihar.
According to the PTI report, 390 phones were shipped to Haryana, 540 phones to West Bengal, 605 phones to Himachal Pradesh, 484 phones to Bihar and finally 221 phones to Uttarakhand. Ringing Bells has the next phase of the delivery ready for 2,000 more units, which will begin on Sunday, according to Goel.
Of the second phase of the first batch for 2,000 Freedom 251 smartphones, 23 phones will go to consumers in Delhi, 364 phones in Punjab, 108 in J&K, 521 in Maharashtra, 194 in Madhya Pradesh, 225 in Jharkhand and 365 in Rajasthan. The company said it will ship a total of 5,000 units by July 11 once the remaining 760 phones are delivered in Noida, Ghaziabad, Meerut, among other areas in UP on Monday.
Goel said that the company would start working on the next lot of 2 lakh smartphones after July 11.
Amidst all this, Ringing Bells launched six new phones on Friday along with what it claims is the world's cheapest 32-inch LED TV at Rs. 9,990. The new phones are more expensive than the Freedom 251 and the cheapest of them all is a feature phone called "Hit" for Rs. 699.
The Freedom 251 comes with a 4-inch display, 3.2MP primary camea, VGA front snapper and 3G support. It is powered by a 1.3 GHz MediaTek quad-core CPU, 1GB RAM, 1,450mAh battery and comes with 8GB expandable storage. The handset runs Android 5.1 Lollipop and comes pre-loaded with apps such as women safety app, Swachh Bharath, Fisherman, Farmer, Medical, Google Play, WhatsApp, Facebook and YouTube among others.