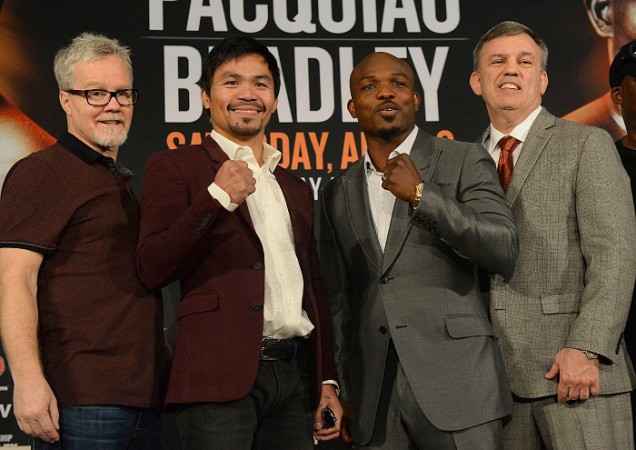 Manny Pacquiao is set to fight Timothy Bradley in his final fight on April 9 at the MGM Grand in Las Vegas, before the Filipino hangs his gloves. Pacquiao's trainer, Freddie Roach, expectedly, believes the 'Pacman' will win the bout via knockout.
Pacquiao and Bradley are no strangers as the April 9 meeting will be the third bout between the two in their impressive career. Their head-to-head record stands at 1-1. Pacquaio, who lost his last bout against Floyd Mayweather in the 'Fight of the Century' in May last year, will be eager to sign off from the sport in the best fashion, by defeating Bradley.
Roach is confident of Pacquiao's victory, with the trainer quite critical of Bradley's coach, Teddy Atlas, who, he blieves, will lead to the American's downfall.
"I think Manny will knock him out," Roach told ontheropesboxing.com in interview.
"Teddy Atlas will ruin Timothy Bradley with his stories, because his stories have nothing to do with boxing. There's no instruction of how to get better, all they heard in his last fight was that he was not scared of fire and that he trains in the heat.
"You can't tell him that he needs to move his head more and jab more and be more efficient? I think Manny's wish will come true."
But, Bradley, who came up with a brilliant display against Brandon Rios in his last fight, with Atlas in his corner, has banked on his trainer to help him stand out against Pacquiao.
The fight may not garner as much revenue as that of Mayweather vs Pacquiao last May, but the level of boxing is expected to be top class.
When Pacquiao fought Mayweather, he was struggling with a shoulder problem, with the Filipino undergoing surgery after the bout.
So there are some questions regarding Pacquiao's fitness level ahead of his farewell fight. Roach has cleared the air, saying that the boxer will be 100% percent fit for the fight.
"Right now after he got surgery I was told he was given the green light, the guy is one of the best surgeons in the world, so he'll be 100% going into this fight, I'll make sure of that. If he's not 100%, I would never let him fight, I'm not like that," Roach said.
It remains to be seen what happens to Roach's future, with the trainer stating in the past that he would also retire when Pacquaio hangs his gloves.
"Possibly, I still have back problems, my back is killing me right now talking to you, but I will work my ass off until I can. I'm fifty five years old, I'm getting closer to that retirement age but not right at this moment. We'll see how the back comes out and go from there," Roach said.