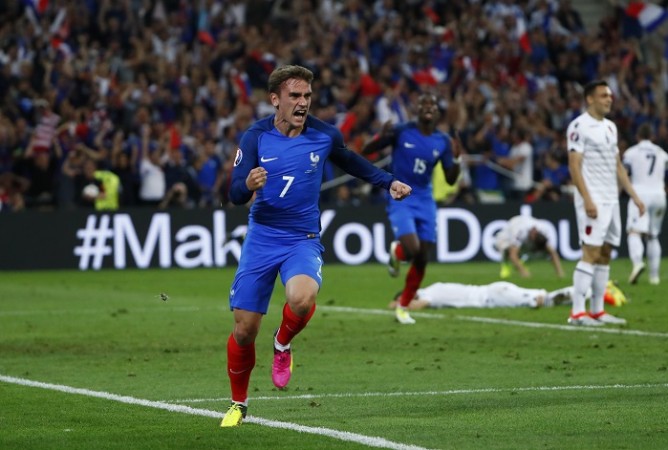 France have become the first team to book their Euro 2016 pre-quarters spot with a hard-fought 2-0 win over Albania in their Group A encounter on Wednesday. Two late goals from Antoine Griezmann and Dimitri Payet helped France go top of the group with two back-to-back wins.
However, France, who defeated Romania in their last match, have not been impressive in Euro 2016 so far. France possess some incredible players, and there is a serious need for their stars to fine-tune their game with some tough fixtures expected in the knockout stages.
Coach Didier Deschamps made a bold move, not picking Paul Pogba and Antoine Griezmann in the starting XI, and replaced the duo with Anthony Martial and Kingsley Coman. But, it was Griezmann, who came in as a second half substitute to score that all-important goal in the 90th minute.
Martial looked good in phases early on, using his pace in the wings, but after drifting inside with the ball, he could not deliver quality balls nor trouble the goalkeeper with his shots. However, most of their attack came from Martial's left wing.
With Olivier Giroud as their player upfront, the striker also did not find the back of the net with his headers. To be fair, the Arsenal striker did not get much chances as the midfielders were not able to produce quality balls in the danger area.
Albania, as the game progressed, were looking a settled unit, and finished the first half on a high with some decent offensive moves. Though France enjoyed huge possession (62 %) in the first half, Albania's defence were organised and prepared for anything that was thrown towards them.
Pogba came in for Martial in the second half, and the home team started well as they came close in the opening minute, but Coman could not steer his header on target. France looked eager to take an early lead as Albania defence also began to crumble under constant pressure.
Albania, out of nowhere, almost snatched a lead in the 51st minute, after a wonderful cross from the right, which hit Sagna, and the ball moved slowly and struck the post.
The game came to life in the second half with end-to-end football. With the home crowd supporting France loudly, the players were encouraged, and began to play better football compared to first half. However, Giroud was unlucky in the 68th minute as his brilliant header hit the post firmly.
There were a number of attempts at goal from the French players in the last 10 minutes, and Griezmann, finally, got the all-important goal in the 90th minute of the match to please the home crowd. Payet doubled the lead as he scored his second goal of Euro 2016 in added time.