France's holiday spirits were literally crashed when a local intercity express with 385 passengers derailed before crashing in to Bretigny-sur-Orge station in south of Paris on Friday evening.
The horrific incident killed 6 people and injured over 100, out of which 22 people are reported to be in critical condition.
An eyewitness waiting for train in the adjacent station told Associated Press (AP), "The train was unrecognizable. There was nothing, but metal scraps."
"The train just collapsed, just like that, on its side... There was blood. People were screaming, people were asking where their children were."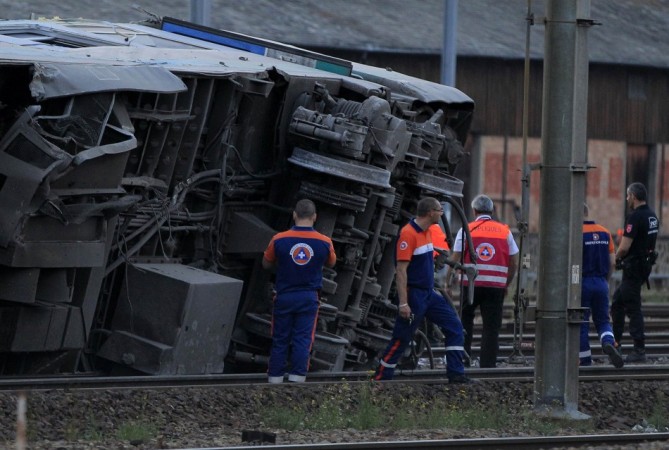 The French railway company, SNCF informed that the intercity carrying 385 commuters first derailed at 5:15pm on Friday and then four of its seven compartments crashed into the crowded Bretigny-sur-Orge station.
British student Marvin Khareem narrated his harrowing experience to BBC Radio, "The train went off the railway; it just went on the platform and kind of flew in the air for a second and went upside down."
"The first and the second coach were completely destroyed. I really thought no-one could survive that because it was completely mashed up. Everyone was crying and running everywhere. A woman was crying for her daughter who was still on the train."
Just as the news of the accident poured in, France president Francois Hollande reached the spot and expressed dismay at the accident.
He told reporters at the scene, "A catastrophe has taken place," and informed that the station would be closed for three days.
While passengers of the ill-fated train told local media that many of the co-passengers were either electrocuted or crushed and many others were hit by the flying glass from the train's windows.
One crash survivor, Annie recalled the horror, as she told France Info radio, "We felt a big impact - as if we had run up onto something - then the train started to keel over and it came off the track. I was in the carriage that fell over."
According to authorities, the number of casualties could rise since many were fatally injured.