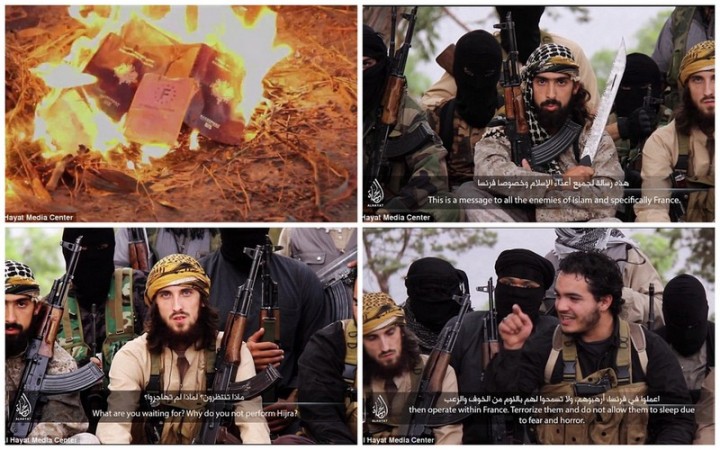 In a third incident in France, an Islamic State (ISIS) 'jihadi' ploughed a van into a crowded market filled with Christmas shoppers in Nantes on Monday, killing at least 10 people. The driver reportedly stabbed himself after the crash.
The incident also left four people with serious injuries, with one of the victims in critical condition, Reuters reported.
There are reports in local newspapers in Nantes that the driver of the van had shouted "Allahu Akbar" ("God is greatest" in Arabic). However, authorities have dismissed the reports.
The incident occurred only a day after a man rammed his car into crowds in the eastern city of Dijon, shouting "Allahu Akbar." Thirteen people were injured in the incident.
On Saturday, a man was shot after he stabbed and wounded three police officers in central France while yelling "Allahu Akbar".
The three incidents has put France on high alert. The question that arises now is: are ISIS supporters answering to the call for jihad?
It was in November that a French national Abu Salman al-Faransi had appeared on an ISIS propaganda video along with two other jihadis from France.
In the ISIS video Abu Salman had said: "Terrorise them and do not allow them to sleep due to fear and horror. There are weapons and cars available and targets ready to be hit. Even poison is available, so poison the water and food of at least one of the enemies of Allah."
"Kill them and spit in [sic] their faces and run over them with your cars. Do whatever you are able to do in order to humiliate them, for they deserve only this."
The three french nationals - Abu Osama al-Faranci, Abu Maryam al-Faranci and Abu Salman al-Faranci - have asked all the "believers" to hurry up and come to Syria to join the jihad. But to those,who were unable to travel the distance, it was advised in the ISIS propaganda video that they should take up acts of terror in the country they are in.
Manuel Valls, the French prime minister, said: "This succession of tragedies worries us all." But he called on the French to "keep their sang froid" and not to jump to hasty conclusions as to the motives in each case.
Investigations have found that in Syria at least 1,000 French nationals have joined the Islamic State (ISIS) and the group has constantly been attempting to indoctrinate and radicalise urban youth.