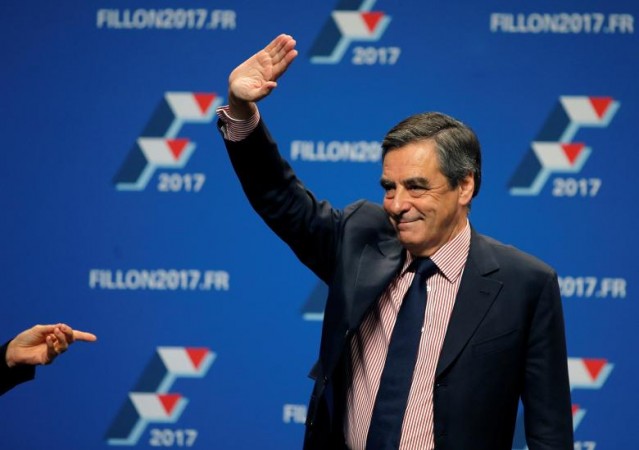 Francois Fillon, the right-wing candidate for 2017 French presidential elections, won the nomination for next year's presidential race on Sunday defeating his rival Republican party's Alain Juppe.
Fillon, the former prime minister of France, won the final nomination of the Republican party and its allies to contest the elections next year. Reports state that Fillon registered a sweeping victory by clinching 66.5 percent of the votes in ballots counted from 9,915 polling stations out of 10,229.
Soon after his win, Fillon gave a speech saying he had "torn up all the pre-written scripts" as he defeated all his rivals in the last weeks of his presidential campaign. Addressing his supporters at his campaign headquarters, Fillon said, "France can no longer bear its decline. France wants the truth and France wants action."
Fillon, 62, is a social conservative and is against multiculturalism. The presidential candidate, during his campaign speeches, has also called for a new understanding with Russian President Vladimir Putin. Fillon is expected to run against the leader of the far-right Front National party Marine Le Pen in the presidential elections scheduled to be held in May.
"I will take up an unusual challenge for France: tell the truth and completely change its software," Fillon said in his victory speech.
Fillon is staunchly against anti-establishment and anti-European Union Le Pen and has said that Pen's victory in the elections would spell "bankruptcy" for the country. Pen hopes to reproduce the results of the US elections in the French elections. Republican Donald Trump's victory in the American elections had shocked the entire world.
The French Republican nominee has also presented a tough stance on Islam in the country and immigration. Fillon, in a speech last week, had said, "when you enter someone else's house you do not take over."