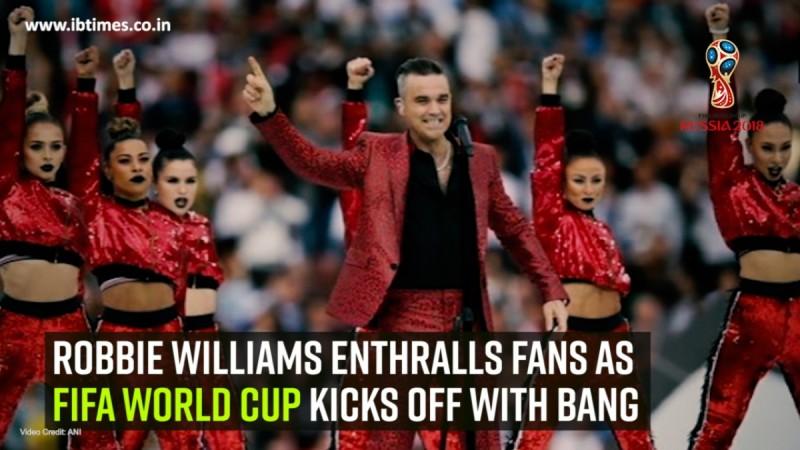 British pop star has grabbed the headlines once again—but this time not for his lively performance at the FIFA 2018 opening ceremony in Moscow but for his middle finger gesture during the show. The singer was performing at the Luzhniki Stadium before the opening game between Russia and Saudi Arabia while he suddenly flashed his middle finger to the cameras—inviting criticism across the globe.
Though most of the broadcasters managed to cut out the hand gesture, the Twitterati caught the act and the pic started going viral.
American broadcaster Fox even issues a statement apologising for showing the gesture. "The 2018 FIFA World Cup opening ceremony was a newsworthy event produced by a third party and carried live on Fox. As it was broadcast live, we did not know what would happen during Robbie Williams' performance and we apologise," ESPN quoted Fox's press statement.
Earlier, Williams confirmed that he was asked not to render "Party Like a Russian," which a-kind-of mocked the Russian leaders during the show. Interestingly, the 44-year-old singer has been facing criticism ever since he agreed to perform for the opening ceremony. Critics in England objected to his stand citing Russia's human right abuses over the years.
And as a reply to all these accusations, the singer even added the line "I did this for free" to the lyrics just before making the gesture. Williams also performed "Let Me Entertain You" and "Rock DJ" and a join duet with Garifullina, a soloist from the Vienna State Opera. While the ceremony was telecasted live across the globe, a majority of the broadcaster couldn't fade out the act.
Host Russia swept the opening match against Saudi Arabia winning 5-0 with Russian President Vladimir Putin witnessing the event.