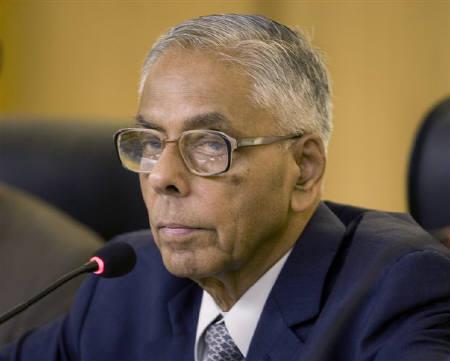 West Bengal (WB) Governor M K Narayanan resigned on Monday, three days after CBI questioned him as a witness in Augusta Westland scam.
After Uttar Pradesh Governor BL Joshi, Chhattisgarh Governor Shekhar Dutt and Nagaland Governor Ashwani Kumar resigned on the orders of NDA government; Narayanan too submitted his papers to the President, declaring his resignation as the WB governor, according to Hindustan Times.
He started his term as the Governor of WB on 24 January 2010 and his five-year term was officially about to end on 23 January 2015.
Narayanan, an IPS officer from 1995 batch and the Director of Intelligence Bureau in 1987-92, was questioned by Central Bureau of Investigations (CBI) on 27 June as a witness to the purchase of VVIP helicopters from Augusta Westland.
He was serving as the National Security Adviser at the time of the deal.
Governor of Goa BV Wanchoo, who was serving the office of the Special Protection Group, will also be questioned in the chopper deal scam.
It is alleged that the specifications of the 12 helicopters to be bought for the VVIPs were changed. CBI had earlier claimed that the technical amendments were made to defeat its competitor Sikorsky and grab the deal.
Narayanan and Wanchoo along with other top officials had accepted the deal with the changes, according to news reports.
During the regime of UPA government, Law Ministry rejected CBI's request to question Narayanan and Wanchoo, citing that Article 361 of the Constitution denies CBI or any investigating body to prosecute them as they hold constitutional posts.
CBI was asked to approach President Pranab Mukherjee to get the permission to question them. BJP-led government asked the UPA appointed governors to quit citing that they were not appointed based on their merits.
NDA government had to face criticism from Congress and CPI (M) who blamed NDA for being unconstitutional. Jammu & Kashmir Chief Minister Omar Abdullah was reported saying that the Centre should approach the governors asking them to quit and must not use media as tool to communicate its message.
In a similar instance, back in 2004, UPA government had dismissed four governors appointed during Atal Bihari Vajpayee's reign.
Supreme Court had objected to UPA's decision and in 2010 released an order that the Centre holds no right to ask any governor to resign as he is not a political employee, according to news reports.