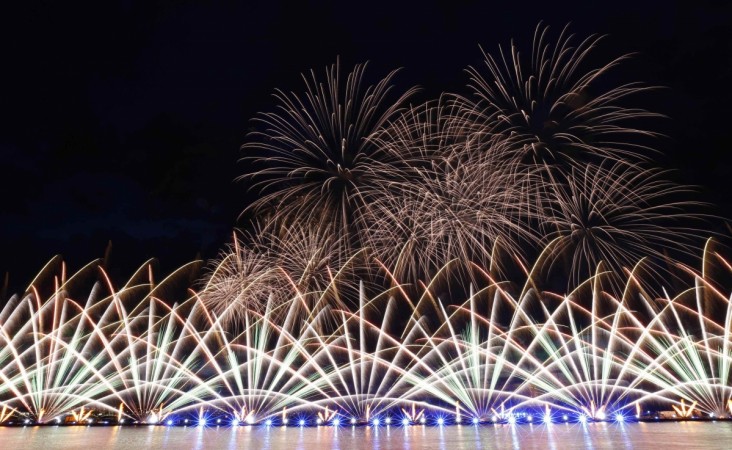 The Fourth Of July is just around the corner and everyone in the US is eagerly waiting for the iconic fireworks. The entire nation will be watching the fireworks, planning picnics, barbeques, concerts, games, ceremonies or even family reunions, and a lot of planning goes into all that. To help you sort things out ahead of the busy day, here are some apps that can be downloaded on your smartphone for free.
Below is the list of 7 Android and iOS smartphone apps to get your Independence Day celebrations started:
Fireworks Arcade
Feel the fireworks on your smartphone with this creative app. Users simply tap or drag their fingers across the screen to create a unique firework art complete with sound effects. So you can host your own fireworks show with Fireworks Arcade.
The app is available as a free download for both iOS and Android smartphones.
EventBrite
This weekend is going to be packed with events to celebrate the Fourth of July or Independence Day. EventBrite helps you discover local events schedule dto take place around you. The convenient mobile app also recommends events based on where your friends are going and lists free events, concerts, festivals and more in one place.
Download EventBrite on your iPhone and Android smartphones for free and start exploring.
Camp Finder – Campgrounds
The Fourth of July falls on a weekend this year and calls for a relaxing vacation. But finding the right place for a short weekend trip can be hectic. To ease your quest, Camp Finder offers a seamless solution and lists RV parks, RV resorts and campgrounds across the US. The information is taken from popular travel site CampingRoadTrip.com, which provides detailed information about the venue including rates, facilities, discounts, contact info, photos as well as user reviews.
Camp Finder is available for download for free on iTunes and Google Play Store.
Barbecue Grill Recipes
If you are not in for a road trip and just wish to have some chilled beer and steak, here is an app that will give you the best barbecue recipes. The app, which is aptly named Barbecue Grill Recipes, helps with cooking as well as shopping for the right groceries.
So get your barbecue stands out and start preparing for your favorite recipe for the coming weekend.
Barbecue Grill Recipes is available on Google Play Store as a free download.
Barbecues & Grilling
iPhone users can take notes from Barbecues & Grilling to get the best recipes. The recipe application is available as a free download via iTunes.
History Here
The US' independence was declared on 4 July, 1776, when the nation was freed from the Kingdom of Great Britain. There is a lot of history in different places around the country and those who are keen on learning can simply get started with this resourceful app, History Here.
The app is available for download for iPhones on iTunes and Android phones on Google Play Store for free.
Independence Day - 4th of July Live Wallpaper
Give your Android smartphone a makeover this Independence Day with suitable live wallpapers. Download the free Independence Day - 4th of July app on your phone and activate the wallpaper by going into the Settings > Wallpapers > Select Live Wallpapers > Independence Day - 4th of July.
Download the app for free from Google Play Store. Apple iPhone users can try alternate apps such as Fireworks Wallpaper Lite.