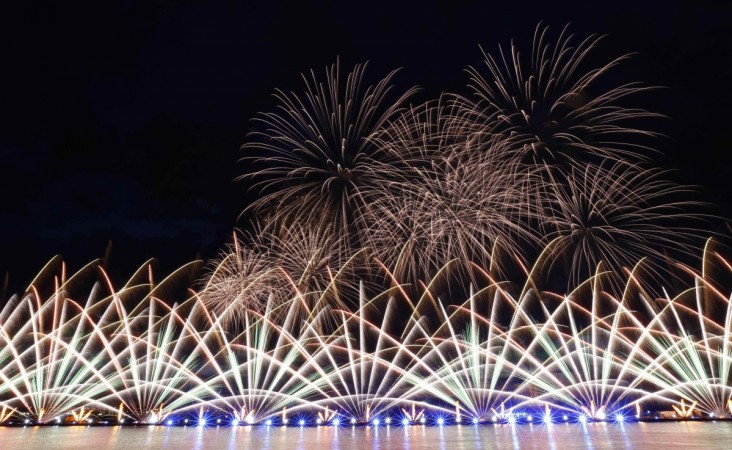 The Fourth of July, the day the United States received independence from Britain, is being celebrated with zeal, enthusiasm and excitement across all the American cities.
While it is a time for Americans to enjoy and relax, many have taken to microblogging site Twitter and are posting messages with hashtags #REASONSTOBEAMERICAN and #4thofJuly2014, which have on top trending topics, since the wee hours of Independence Day.
While some are in the mood to chip in a few jokes, most Twitter users saw emotions and patriotic feelings getting the better of them on this important day.
"We still are innovative, resilient and some of the most creative people in the world... We have freedom to make choices," says a user named @thecinemafan.
The reason to be an American is because it is the "land of the free and the home of the brave", according to 'Sarmad Faiz', while 'Tamara Jones' was rather blatant and straightforward in her reason: "You can do what the f@*k you want! Within reason of course."
Some others, however, appeared to have no reason to be patriotic and display their sentiments on the occasion and chose to be realistic instead.
"I guess because I like here, ya that sounds like a good enough reason to me. Fulfils the criteria," says a user named 'Spwves'.
And for 'William Gapes', the reason was "because your dumb ass was born in the US".
According to BBC Trending, more than 70,000 tweets have been posted on Twitter with the hashtag so far, with California tweeting the most number of posts. 67 percent of the tweets were made by women - an indication, perhaps, that more women were patriotic than men.
On #4thofJuly2014, Americans celebrate Independence Day and share their #ReasonsToBeAmerican pic.twitter.com/LTL9TY0HKU

— BBC Trending (@BBCtrending) July 4, 2014
Here are a few interesting tweets with the hashtag:
I am now going to go take a shower because as an american I am given that right #freedom #REASONSTOBEAMERICAN #USA — miss america (@autumnthoughh) July 4, 2014
#REASONSTOBEAMERICAN so much better than living in Germany, because you literally have a high possibility to meet your favorite celeb.. :(

— Julia Vu (@JuliaTNVu) July 4, 2014
#REASONSTOBEAMERICAN It is the greatest country on the Earth. It is wonderful to live in the USA. America #1!!! The flag is still there! — PHIL ROKOTELLINO (@TOOFUNNYPHIL) July 4, 2014
"@sxmmerluv: #REASONSTOBEAMERICAN Let's be honest Americans has the coolest president http://t.co/rt6SMFPHxT"omg did this really hapn

— мιℓу ♥ (@eh_mily) July 4, 2014
#REASONSTOBEAMERICAN You get to wear an #AmericanFlagBandana and American Flag swim trunks on #IndependenceDay. — Brent Felsinger (@bfelsinger20) July 4, 2014
"eat your vegetables" glady #REASONSTOBEAMERICAN pic.twitter.com/FHun9RTBs1

— sam. (@sxmanturd) July 4, 2014
Actually, frankly, I don't have many #ReasonsToBeAmerican today - with one side trying to kill the other, I grieve for a rational America. — Laurie Mann (@lauriedtmann) July 4, 2014
We got a black president #REASONSTOBEAMERICAN

— Moonshine! (@lorddfinch) July 4, 2014
The mafia grew bigger here #REASONSTOBEAMERICAN — Moonshine! (@lorddfinch) July 4, 2014
#REASONSTOBEAMERICAN #americanproblemsnight #4thofJuly pic.twitter.com/q3Ee2DYiBj

— elias. (@e_nathaniel_) July 4, 2014