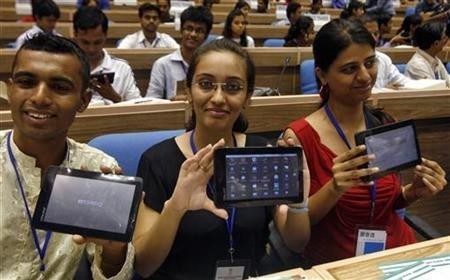 The Department of Electronics and Information Technology (DIETy) has released the proposed technical specifications of the fourth generation Aakash.
The upcoming Aakash 4 tablet will sport a 7.0-inch LCD display with 800x480p resolution and is reported to support two operating systems - Android V4.2.1 Jelly Bean and the ubiquitous Linux Ubuntu OS
Other striking features include 4G support (via external dongle), calling facility, 1GB DDR3 RAM, 4GB(minimum) inbuilt memory which can be further expanded up to 32GB via microSD card. It also reported to ship with a 0.3-megapixel camera and a 3-Axis accelerometer.
If the proposed spec list does ends up in the final product, the new Aakash 4 will be major upgrade from its previous generation models as they were panned by tech pundits for their sub-par features such as a less-responsive display panel, outdated Android OS and low storage capacity.
According to various reports, Aakash 4 is said to be developed under the guidance of IIT Madras Professor, Ashok Jhunjhunwala (Department of Electric Engineering). It is expected to priced around ₹3.000.
Proposed Specifications of Aakash 4:
| | |
| --- | --- |
| Model | Aakash 4 |
| Display | 7.0-inch LCD display with 800x480p resolutions with scratch resistant screen guard |
| OS | To support Android v4.2.1 Jelly Bean as well as Linux based Ubuntu OS |
| RAM | 1GB DDR3 SDRAM |
| Storage capacity | 4GB or more, microSD card to enhance memory space up to 32GB |
| Camera | 0.3-megapixel VGA camera at the front,(more pixel count can be expected in the final product) |
| Network | 2G ,3G and 4G via external dongle support |
| Battery | Minimum 3 hours back-up for online 720p video playback |
| Add-ons | Voice calling, Bluetooth v2.1, Wi-Fi (IEEE 802.11 b/g/n), USB connectivity, 3-Axis accelerometer |
| Dimensions | 190.5 x 127.0 x 19.5 mm |
| weight | Less than 500 g |