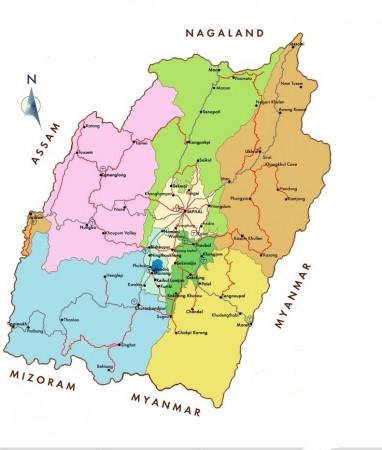 Four people were seriously injured after serial blasts rocked India's northeastern state of Manipur during the 66th independence Day celebrations on Wednesday.
No causalities or any damage were reported as of now.
According to television reports, the first blast occurred at around 8 am from the interior Thoubal district at a fair ground near the district headquarters.
Three other explosions took place in the capital city Imphal during Chief Minister Okram Ibobi Singh's speech at the1st Manipur Rifles parade ground, NDTV said.
Those severely injured in the blast were identified as Y Manao Singh (52), Sanabanta Das (22), Akoijam Ongbi Sanajaobi Devi (55) and Ningombam Manisam Devi (65). The four were immediately taken to a nearby hospital for treatment.
Reports said that a powerful bomb was left at the side of busy road at Sagolband and was detonated at around 9 am using a remote-controlled device.
Ten minutes later another blast took place near Minuthong bridge on Imphal river which is about one kilometer away from the 1st Manipur Rifles parade ground.
The third explosion took place in the Mahabali Temple complex at around 9:45 am, damaging the major portion of the fencing wall of the complex. The temple is about one and a half kilometers from the parade ground.
No group has taken responsibility for the blasts as of yet.
Official reports from Thoubal district claimed that after the bomb exploded in the area, the police along with paramilitary forces and Assam Rifles personnel encircled nearby areas and detained several suspects. The suspects were later released after proper verification and investigation.
Police and security officials are patrolling the areas and have blocked all the exit points of the city to prevent escape of suspected insurgents. Several areas surrounding the bomb blast area were searched, but no arrests were made in connection to the blast.
Manipur officials claimed that the blasts were carried out by the Coordination Committee (CORCOM), which a group of seven major separatist outfits fighting for independence of the state. A day earlier, the same group called for a boycott of all Independence Day celebrations.