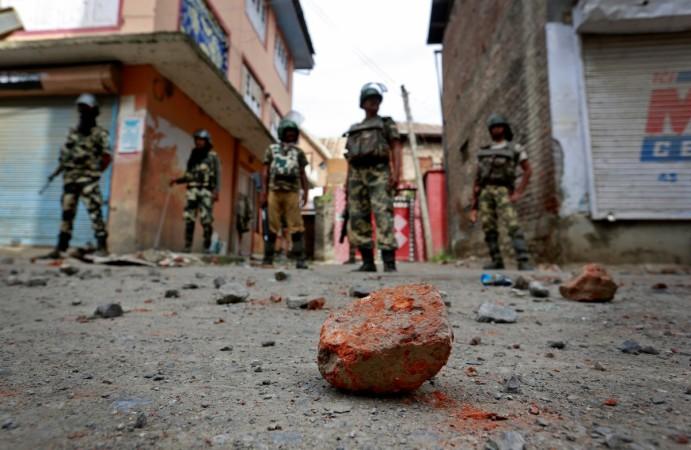 The local police personnel in Kashmir valley continue to face threats. In the lastest incident, four policemen, including three special police officers (SPOs) and a police constable from the Kapran and Batagund villages in the volatile Shopian district of South Kashmir.
The four policemen kidnapped have been identified as Firdous Ahmad Kuchey, Kuldeep Singh, Nisar Ahmad Dhobi and Fayaz Ahmad Bhat.
According to police sources, the suspected Hizbul Mujahideen militants might have carried the kidnappings. The outfit had recently issued an audio threatening the local policemen to either 'leave their jobs or face the dire consequences'.
Local sources told the International Business Times India that the militants barged inside the houses of policemen and abducted them on Friday morning.
On August 31, the Hizbul Mujahideen claimed the responsibility of kidnapping 11 police personnel and their relatives from various districts of South Kashmir out of which six abductions happened from Shopian district alone.
The militants said that they followed a tit for tat policy after the J&K police arrested the father of top Hizbul Mujahideen commander Riyaz Naikoo and ransacked the houses of two militants.
A series of abductions and killings of policemen have taken place since June this year from various parts of the valley which have raised the fear quotient among the locals employed in the security forces.
A senior political commentator based in Srinagar while wishing anonymity told the International Times India, that the killings of the local policemen is not a new phenomenon in Kashmir valley and the same occurred a few years ago to scare the locals away from the police recruitments.
"It is a well-hatched plan to stop the locals from joining police forces. The families of the policemen, however, were spared earlier which is not the case now," he added.
The Hizbul Mujahideen top commander, Riaz Naikoo, had earlier appeared in a video on the social media threatening the locals to refrain from joining police ranks or be ready to face the dire consequences.