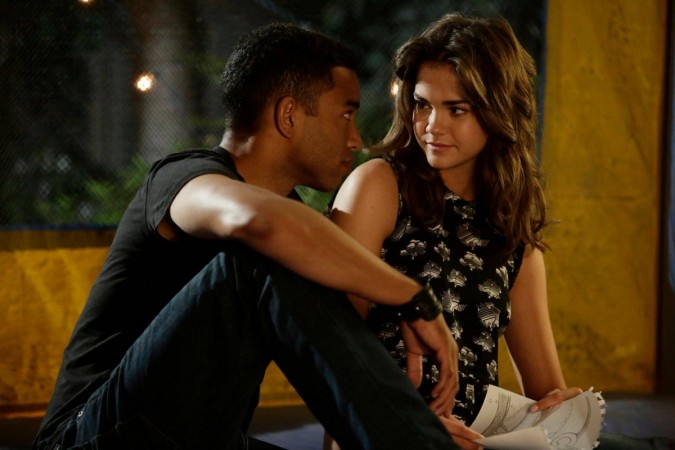 "The Fosters" is almost midway through season 3, and the ABC series is currently centred on Callie and her blooming relationship with AJ. Episode 6 "It's My Party" had ended with the duo kissing, and the upcoming episode 7, "Faith, Hope, Love", will be about how this kiss will affect the others in the Foster clan.
The kiss between AJ (Todd Williamson) and Callie (Maia Mitchell) was seen by Stef (Teri Polo) through the kitchen window and it doesn't look like she is very pleased with it. In the official preview, Stef is seen telling her soon-to-be adopted daughter, "You guys cannot live in this house together," possibly referring to AJ and her.
Meanwhile, her adoption process is still underway and Lena (Sherri Daum) reminds Callie that they cannot have anything hinder her adoption, and her parents' disapproval is not welcomed by Callie.
Mariana (Ciera Ramirez) also causes some tension in the Foster household when she declares her decision to get baptised. Although Stef and Lena are against the idea, Mariana insists on getting baptised as a Catholic, so she can be a godmother to her half-sister, Isabella.
The family finally gives in, but the baptism interrupted when Stef gets a phone call, which reveals AJ and Callie were pulled over while driving and have been arrested.
Will this arrest interfere with Callie's adoption? Will this inspire the mothers to insist on AJ leaving the house?
Find out on Season 3 Episode 7 "Faith, Hope, Love", which will be aired on Monday, 20 July, at 8pm (EST) on ABC.